I-Beam

Roller Track Sets for Doors
These complete sets contain everything you need to create a system for hanging doors. Track is lightweight aluminum and hangers are steel. All hangers adjust vertically between the bottom of the track and the top of the door. Two hangers per door are required.
Additional track and hangers let you create a longer run.
For technical drawings and 3-D models, click on a part number.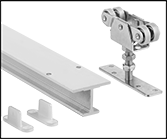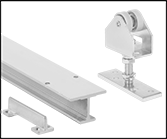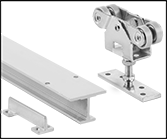 Lg.,




ft.

For

Min.


Door

Thick.

Wd.

Ht.

Min.

Max.

Material
Mounting
Fasteners Included
Each
4

3/4

"
1

9/16

"

15/16

"
2

1/8

"
2

7/8

"
Aluminum
Yes
0000000
0000000
5

3/4

"
1

9/16

"

15/16

"
2

1/8

"
2

7/8

"
Aluminum
Yes
0000000
000000
6

3/4

"
1

9/16

"

15/16

"
2

1/8

"
2

7/8

"
Aluminum
Yes
0000000
000000
8

3/4

"
1

9/16

"

15/16

"
2

1/8

"
2

7/8

"
Aluminum
Yes
0000000
000000
6
1"
1

7/8

"
1

5/16

"
3

1/4

"
3

3/4

"
Aluminum
Yes
0000000
000000
8
1"
1

7/8

"
1

5/16

"
3

1/4

"
3

3/4

"
Aluminum
Yes
0000000
000000
10
1"
1

7/8

"
1

5/16

"
3

1/4

"
3

3/4

"
Aluminum
Yes
0000000
000000
12
1"
1

7/8

"
1

5/16

"
3

1/4

"
3

3/4

"
Aluminum
Yes
0000000
000000
5
1"
1

7/8

"
1

5/16

"
3

1/4

"
3

3/4

"
Aluminum
Yes
0000000
000000
6
1"
1

7/8

"
1

5/16

"
3

1/4

"
3

3/4

"
Aluminum
Yes
0000000
000000
7
1"
1

7/8

"
1

5/16

"
3

1/4

"
3

3/4

"
Aluminum
Yes
0000000
000000
8
1"
1

7/8

"
1

5/16

"
3

1/4

"
3

3/4

"
Aluminum
Yes
0000000
000000
10
1"
1

7/8

"
1

5/16

"
3

1/4

"
3

3/4

"
Aluminum
Yes
0000000
000000
12
1"
1

7/8

"
1

5/16

"
3

1/4

"
3

3/4

"
Aluminum
Yes
0000000
000000