Motorized Hoist Trolleys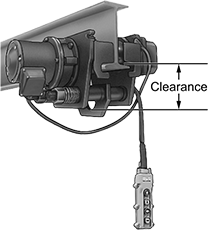 With the touch of a button, these trolleys effortlessly move hook-mount hoists along your beam. The included spacing washers can be added and removed to fit a range of beam widths. Hardwire your hoist to the trolley to operate both the trolley and your single-speed hoist with the handheld control.
Warning: Never use to lift people or items over people.
For technical drawings and 3-D models, click on a part number.
tons

lbs.

Shape

Wd.

Min.




Ht.

Clearance

Min.


Curve
Radius
Wheel
Material
Eye


Dia.

Max.

Trolley


Speed,


fpm
Voltage
Control
Cord


Lg.,

ft.

Adjustment
Type
Each

With Mounting Eye

Cast Iron

2
4,400
Flat, Tapered
3

1/2

"-6"
6"
5"
52"
Cast Iron
2

1/2

"
78
120V AC
17
Spacing Washers
00000000
000000000
2
4,400
Flat, Tapered
3

1/2

"-6"
6"
5"
52"
Cast Iron
2

1/2

"
78
240V AC, 460V AC
17
Spacing Washers
00000000
00000000
3

1/4

6,600
Flat, Tapered
4"-7"
8"
5

1/4

"
71"
Cast Iron
2

7/8

"
78
120V AC
17
Spacing Washers
00000000
00000000
3

1/4

6,600
Flat, Tapered
4"-7"
8"
5

1/4

"
71"
Cast Iron
2

7/8

"
78
240V AC, 460V AC
17
Spacing Washers
00000000
00000000