Roller Track Sets for Bypassing Cabinet Doors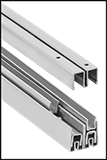 For smoother operation than standard track sets, these sets include upper and lower roller track. Use them to hang lightweight cabinet doors that slide past each other. To mount, use nails or glue track in place. Height of cabinet door should not exceed twice its width.
For technical drawings and 3-D models, click on a part number.