Truckbed Work Platforms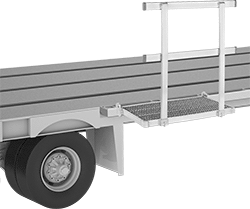 Create additional workspace to safely and efficiently load, unload, and secure items on a flatbed trailer. Quick to install and remove, these platforms hook into the prefabricated slots on the sides of most flatbeds. Made of aluminum, the platform and rails are lightweight and corrosion resistant. Platform is serrated for maximum slip resistance. Rails are removable for convenient storage.
Note: Work platforms meet OSHA dimensional standards. Users are responsible for checking local, state, and federal codes, including OSHA, for safe installation and operating practices.