TSA-Accessible

Resettable Combination Padlocks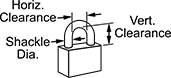 Lock secures your equipment cases during travel, but allows Transportation Security Administration personnel to open your luggage. An opened indicator changes from green to red to alert you if the lock was opened. You can set your own combination and change it at any time.
For technical drawings and 3-D models, click on a part number.
Vertical
Clearance
Horizontal
Clearance

Dia.

Material

Ht.

Wd.

Thick.

Color
Material
Combination
Type

No.

of
Possible
Combinations
Each

Solid Aluminum Body

3/4

"

1/2

"

1/8

"
Hardened Steel
1

7/16

"
1

5/16

"

9/16

"
Black
Plastic
Three Numbers
1,000
000000
00000