Heat-Shrink

Tubing for Ground Wire

Material:

Polyolefin Plastic
Shrink

Ratio:

2:

1
Dielectric

Strength:

Not Rated
Shrink

Temperature:

250° F

Temperature

Range:

-65° to 275° F

Specifications

Met:

UL Recognized

Component,

CSA Certified
Identify ground wire with this green-and-yellow striped tubing. It's made of general purpose polyolefin.
Dielectric strength is the maximum voltage a material can handle before it starts to breakdown.
Harsh Environment
Heat-Shrink

Tubing Assortments
Maintain a supply of tubing in a variety of sizes and materials that withstands harsh conditions such as abrasion, moisture, and chemicals.
PVC tubing has excellent resistance to chemicals, oil, and acids.
Polyolefin is for general purpose use. Polyolefin with adhesive creates a water-resistant seal; the adhesive melts when heated and bonds to the underlying surface.
FEP tubing is high strength to resist abrasion, cuts, tears, and chemicals.
PVDF resists abrasion, cuts, and tears.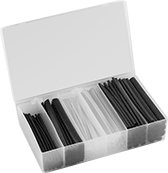 Plastic Box
Includes
Number
of
Pieces

Lg.

Shrink
Ratio
Shrink


Temp.,




°F

Colors
Included
Each
0.06"-0.5" ID Before Shrinking of Polyolefin (42 pieces, 7 sizes)
0.13"-1" ID Before Shrinking of Polyolefin with Adhesive Lining (16 pieces/6sizes)
0.06"-0.5" ID Before Shrinking of PVC (14 pieces, 7 sizes)
0.17"-0.5" ID Before Shrinking of PVDF (14 pieces, 7 sizes)
0.03"-0.12" ID Before Shrinking of FEP (14 pieces, 7 sizes)
0.17"-0.25" ID Before Shrinking Nylon Butt Splices (3 Sizes, 4 each)
112

1/2

ft.
1.2:1, 2:1, 2.5:1, 3:1
195° to 395°
Black, Blue, Brown, Clear, Gray, Green, Green with Yellow Stripe, Red, White, Yellow
00000000
0000000