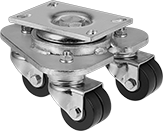 With Polyurethane Wheels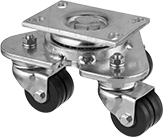 With Neoprene Wheels
For maneuverability in tight spaces, these dollies have two platforms that swivel independently. Their casters are often called triple-swivel casters or zero-throw casters. Ball bearings between the platforms on these dollies allow you to turn and position the load without any caster movement. The top platform has slots for permanent mounting (fasteners not included).
Polyurethane wheels combine the abrasion resistance of plastic with the shock- and sound-absorbing qualities of rubber. They are nonmarking. Use them on smooth or rough floors and in areas with debris.
Neoprene wheels won't degrade when they come into contact with oil, acids, and solvents. They're resilient and absorb shocks, but not as much as polyurethane rubber wheels. Use them on smooth or rough floors.
O'all




Cap.,




lbs.

Body
Material

Lg.

Wd.

O'all




Ht.

Wd.

Lg.

Ctr.-to-Ctr.




Wd.

Ctr.-to-Ctr.




Lg.

Fasteners
Included

No.


of
Wheel
Configuration
Brake
Type
Caster
Mount
Type

Dia.

Type
Each

Polyurethane Rubber Wheels

600
Zinc-Plated Steel
4

1/2

"
3

3/4

"
4

1/4

"

3/8

"

3/4

"
3"
3

5/8

"
No
4
Three Swivel Casters
None
Replaceable
2

1/2

"
Solid
00000000
0000000
900
Zinc-Plated Steel
4

1/2

"
3

3/4

"
5

1/2

"

3/8

"

3/4

"
3"
3

5/8

"
No
4
Three Swivel Casters
None
Replaceable
3"
Solid
00000000
000000
1,200
Zinc-Plated Steel
6

1/4

"
4

1/2

"
5

1/2

"

1/2

"
1"
3

3/8

"
5

1/4

"
No
4
Three Swivel Casters
None
Replaceable
2

1/2

"
Solid
00000000
000000
1,800
Zinc-Plated Steel
6

1/4

"
4

1/2

"
6

1/2

"

1/2

"
1"
3

3/8

"
5

1/4

"
No
4
Three Swivel Casters
None
Replaceable
3"
Solid
00000000
000000

Neoprene Rubber Wheels

330
Zinc-Plated Steel
4

1/2

"
3

3/4

"
4

1/4

"

3/8

"

3/4

"
3"
3

5/8

"
No
4
Three Swivel Casters
None
Replaceable
2

1/2

"
Solid
00000000
000000
750
Zinc-Plated Steel
6

1/4

"
4

1/2

"
5

1/2

"

1/2

"
1"
3

3/8

"
5

1/4

"
No
4
Three Swivel Casters
None
Replaceable
2

1/2

"
Solid
00000000
000000