Selecting
U-Bolts

Using

Pipe,

Conduit,

or Tubing Trade Size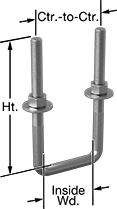 Suspend and route flat-bottomed objects such as strut channel and small duct.
Black-oxide steel U-bolts have mild corrosion resistance
Zinc-plated steel U-bolts have good corrosion resistance in most environments.
Galvanized steel U-bolts have better corrosion resistance than black-oxide and zinc-plated steel U-bolts.
304 stainless steel U-bolts have excellent corrosion resistance and good chemical resistance.
For technical drawings and 3-D models, click on a part number.
Inside


Wd.

Ht.

Thread


Lg.

Capacity,

lbs.

Ctr.-to-Ctr.

No.

of Nuts
Included

No.

of Washers
Included
Each

3/8"-16

Thread Size

2"
2

5/8

"
1

1/2

"
1,075
2

3/8

"
2
2
00000000
00000
2"
4

5/8

"
3"
1,075
2

3/8

"
2
2
00000000
0000
2"
6

5/8

"
3

3/4

"
1,075
2

3/8

"
2
2
00000000
0000
3"
2

5/8

"
1

1/2

"
1,075
3

3/8

"
2
2
00000000
0000
3"
4

5/8

"
3"
1,075
3

3/8

"
2
2
00000000
0000
3"
6

5/8

"
3

3/4

"
1,075
3

3/8

"
2
2
00000000
0000
4"
2

5/8

"
1

1/2

"
1,075
4

3/8

"
2
2
00000000
0000
4"
4

5/8

"
3"
1,075
4

3/8

"
2
2
00000000
0000
4"
6

5/8

"
3

3/4

"
1,075
4

3/8

"
2
2
00000000
0000
5"
4

5/8

"
1

1/2

"
1,075
5

3/8

"
2
2
00000000
0000
5"
6

5/8

"
3"
1,075
5

3/8

"
2
2
00000000
0000
5"
8

5/8

"
3

3/4

"
1,075
5

3/8

"
2
2
00000000
0000
6"
4

5/8

"
3"
1,075
6

3/8

"
2
2
00000000
0000
6"
6

5/8

"
3

3/4

"
1,075
6

3/8

"
2
2
00000000
0000
6"
8

5/8

"
5

5/8

"
1,075
6

3/8

"
2
2
00000000
0000
7"
6

5/8

"
3"
1,075
7

3/8

"
2
2
00000000
0000
7"
8

5/8

"
3

3/4

"
1,075
7

3/8

"
2
2
00000000
0000
7"
10

5/8

"
5

5/8

"
1,075
7

3/8

"
2
2
00000000
0000

1/2"-13

Thread Size

2"
2

5/8

"
1

1/2

"
2,000
2

1/2

"
2
2
00000000
0000
2"
4

5/8

"
3"
2,000
2

1/2

"
2
2
00000000
0000
2"
6

5/8

"
3

3/4

"
2,000
2

1/2

"
2
2
00000000
00000
3"
2

5/8

"
1

1/2

"
2,000
3

1/2

"
2
2
00000000
0000
3"
4

5/8

"
3"
2,000
3

1/2

"
2
2
00000000
0000
3"
6

5/8

"
3

3/4

"
2,000
3

1/2

"
2
2
00000000
00000
4"
2

5/8

"
1

1/2

"
2,000
4

1/2

"
2
2
00000000
0000
4"
4

5/8

"
3"
2,000
4

1/2

"
2
2
00000000
00000
4"
6

5/8

"
3

3/4

"
2,000
4

1/2

"
2
2
00000000
00000
5"
4

5/8

"
1

1/2

"
2,000
5

1/2

"
2
2
00000000
00000
5"
6

5/8

"
3"
2,000
5

1/2

"
2
2
00000000
00000
5"
8

5/8

"
3

3/4

"
2,000
5

1/2

"
2
2
00000000
00000
6"
4

5/8

"
3"
2,000
6

1/2

"
2
2
00000000
00000
6"
6

5/8

"
3

3/4

"
2,000
6

1/2

"
2
2
00000000
00000
6"
8

5/8

"
5

5/8

"
2,000
6

1/2

"
2
2
00000000
00000
7"
6

5/8

"
3"
2,000
7

1/2

"
2
2
00000000
00000
7"
8

5/8

"
3

3/4

"
2,000
7

1/2

"
2
2
00000000
00000
7"
10

5/8

"
5

5/8

"
2,000
7

1/2

"
2
2
00000000
00000
8"
4

5/8

"
3"
2,000
8

1/2

"
2
2
00000000
00000
8"
6

5/8

"
3

3/4

"
2,000
8

1/2

"
2
2
00000000
00000
8"
8

5/8

"
5

5/8

"
2,000
8

1/2

"
2
2
00000000
00000

3/8"-16

Thread Size

2"
2

5/8

"
1

1/2

"
1,075
2

3/8

"
2
2
0000000
0000
2"
4

5/8

"
3"
1,075
2

3/8

"
2
2
0000000
0000
2"
6

5/8

"
3

3/4

"
1,075
2

3/8

"
2
2
0000000
0000
2

1/8

"
3"
1"
Not Rated
2

1/2

"
2
2
00000000
0000
3"
2

5/8

"
1

1/2

"
1,075
3

3/8

"
2
2
0000000
0000
3"
4

5/8

"
3"
1,075
3

3/8

"
2
2
0000000
0000
3"
6

5/8

"
3

3/4

"
1,075
3

3/8

"
2
2
0000000
0000
3

1/8

"
4"
1

1/2

"
Not Rated
3

1/2

"
2
2
00000000
0000
4"
2

5/8

"
1

1/2

"
1,075
4

3/8

"
2
2
0000000
0000
4"
4

5/8

"
3"
1,075
4

3/8

"
2
2
0000000
0000
4"
6

5/8

"
3

3/4

"
1,075
4

3/8

"
2
2
0000000
0000
5"
4

5/8

"
1

1/2

"
1,075
5

3/8

"
2
2
0000000
0000
5"
6

5/8

"
3"
1,075
5

3/8

"
2
2
0000000
0000
5"
8

5/8

"
3

3/4

"
1,075
5

3/8

"
2
2
0000000
0000
6"
4

5/8

"
3"
1,075
6

3/8

"
2
2
0000000
0000
6"
6

5/8

"
3

3/4

"
1,075
6

3/8

"
2
2
0000000
0000
6"
8

5/8

"
5

5/8

"
1,075
6

3/8

"
2
2
0000000
0000
7"
6

5/8

"
3"
1,075
7

3/8

"
2
2
0000000
0000
7"
8

5/8

"
3

3/4

"
1,075
7

3/8

"
2
2
0000000
0000
7"
10

5/8

"
5

5/8

"
1,075
7

3/8

"
2
2
0000000
0000
8"
4

5/8

"
3"
1,075
8

3/8

"
2
2
0000000
0000
8"
6

5/8

"
3

3/4

"
1,075
8

3/8

"
2
2
0000000
0000
8"
8

5/8

"
5

5/8

"
1,075
8

3/8

"
2
2
0000000
0000

1/2"-13

Thread Size

2"
2

5/8

"
1

1/2

"
2,000
2

1/2

"
2
2
00000000
0000
2"
4

5/8

"
3"
2,000
2

1/2

"
2
2
00000000
0000
2"
6

5/8

"
3

3/4

"
2,000
2

1/2

"
2
2
00000000
00000
2

1/8

"
5

1/2

"
2

1/2

"
Not Rated
2

5/8

"
2
2
00000000
0000
2

1/8

"
7

1/2

"
2

1/2

"
Not Rated
2

5/8

"
2
2
00000000
0000
3"
2

5/8

"
1

1/2

"
2,000
3

1/2

"
2
2
00000000
0000
3"
4

5/8

"
3"
2,000
3

1/2

"
2
2
00000000
0000
3"
6

5/8

"
3

3/4

"
2,000
3

1/2

"
2
2
00000000
00000
3

1/8

"
5

1/2

"
2

1/2

"
Not Rated
3

5/8

"
2
2
00000000
0000
4"
2

5/8

"
1

1/2

"
2,000
4

1/2

"
2
2
00000000
0000
4"
4

5/8

"
3"
2,000
4

1/2

"
2
2
00000000
0000
4"
6

5/8

"
3

3/4

"
2,000
4

1/2

"
2
2
00000000
00000
5"
4

5/8

"
1

1/2

"
2,000
5

1/2

"
2
2
00000000
00000
5"
6

5/8

"
3"
2,000
5

1/2

"
2
2
00000000
00000
5"
8

5/8

"
3

3/4

"
2,000
5

1/2

"
2
2
00000000
00000
6"
4

5/8

"
3"
2,000
6

1/2

"
2
2
00000000
00000
6"
6

5/8

"
3

3/4

"
2,000
6

1/2

"
2
2
00000000
00000
6"
8

5/8

"
5

5/8

"
2,000
6

1/2

"
2
2
00000000
00000
7"
6

5/8

"
3"
2,000
7

1/2

"
2
2
00000000
00000
7"
8

5/8

"
3

3/4

"
2,000
7

1/2

"
2
2
00000000
00000