Extra-High-Capacity

V-Groove

Track Casters with Metal Wheels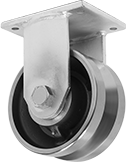 Rigid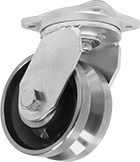 Swivel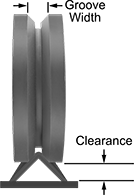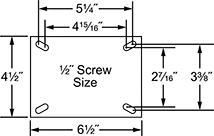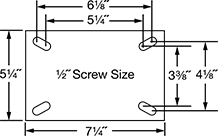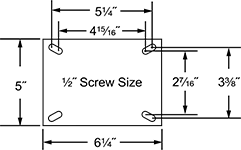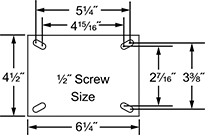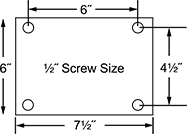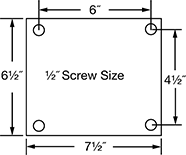 The wheels of these casters have a 90° V-groove and a flat tread to move your equipment on angle-iron track as well as the floor.
Wheels have roller bearings for smooth rolling.
Iron wheels offer the strength and wear resistance you need for heavy loads and long life. Steel wheels provide the highest capacities of any wheel material.
Forged-steel frames are more durable than stamped-steel frames.
Swivel casters with tapered roller bearings are impact resistant and withstand both downward and side force. Swivel casters with ball bearings have smoother swiveling than tapered roller bearings. Swivel casters with double-ball bearings have the smoothest swiveling.
Kingpinless swivel construction distributes impact better than standard kingpin casters, enabling smoother swiveling and extending service life.
Rigid
Dia.

Wd.

Mount


Ht.

Cap.

per


Caster,

lbs.

Groove


Wd.

Clearance
on

2"

Track
Frame
Fabrication
Mounting
Plate Style
Each

Painted Black Solid Iron

Wheels—

Hard

6"
2

1/2

"
7

1/2

"
2,500

7/8

"

31/32

"
Stamped
3
0000000
0000000
6"
2

1/2

"
8"
3,500

7/8

"
1

1/16

"
Stamped
4
0000000
000000
6"
3"
8"
5,000

7/8

"
1

1/16

"
Stamped
4
0000000
000000
8"
2

1/2

"
10

1/8

"
3,000

7/8

"

31/32

"
Stamped
3
0000000
000000
8"
3"
10

1/2

"
5,400

7/8

"
1

1/16

"
Stamped
4
0000000
000000
10"
3"
12

1/2

"
5,400
1

3/8

"

7/8

"
Stamped
4
0000000
000000

Painted Gray Solid Iron

Wheels—

Hard

6"
2

1/2

"
7

5/8

"
2,000

7/8

"
1

1/8

"
Forged
2
0000000
000000
8"
2

1/2

"
10

1/8

"
2,000

7/8

"
1

1/8

"
Forged
2
0000000
000000
8"
3"
10

1/2

"
2,500

7/8

"
1

1/8

"
Forged
4
0000000
000000
10"
3"
12

1/2

"
3,000
1

3/8

"

7/8

"
Forged
4
0000000
000000
6"
3"
8

1/2

"
6,000
1

3/8

"

7/8

"
Forged
5
0000000
000000
8"
4"
10

1/2

"
8,300
1

3/4

"

11/16

"
Forged
5
0000000
000000
Swivel
Dia.

Wd.

Mount


Ht.

Cap.

per


Caster,

lbs.

Groove


Wd.

Clearance
on

2"


Track
Frame
Fabrication
Mounting
Plate
Style
Swivel
Construction
Swivel
Bearing
Type
Each

Painted Black Solid Iron

Wheels—

Hard

6"
2

1/2

"
7

1/2

"
2,500

7/8

"

31/32

"
Stamped
3
Kingpinless
Ball
0000000
0000000
6"
2

1/2

"
8"
3,500

7/8

"
1

1/16

"
Stamped
4
Kingpinless
Ball
0000000
000000
6"
3"
8"
5,000

7/8

"
1

1/16

"
Stamped
4
Kingpinless
Ball
0000000
000000
8"
2

1/2

"
10

1/8

"
3,000

7/8

"

31/32

"
Stamped
3
Kingpinless
Ball
0000000
000000
8"
3"
10

1/2

"
5,400

7/8

"
1

1/16

"
Stamped
4
Kingpinless
Ball
0000000
000000
10"
3"
12

1/2

"
5,400
1

3/8

"

7/8

"
Stamped
4
Kingpinless
Ball
0000000
000000

Painted Gray Solid Iron

Wheels—

Hard

6"
2

1/2

"
7

5/8

"
2,000

7/8

"
1

1/8

"
Forged
1
Kingpin
Double Ball
0000000
000000
8"
2

1/2

"
10

1/8

"
2,000

7/8

"
1

1/8

"
Forged
1
Kingpin
Double Ball
0000000
000000
8"
3"
10

1/2

"
2,500

7/8

"
1

1/8

"
Forged
4
Kingpin
Double Ball
0000000
000000
10"
3"
12

1/2

"
3,000
1

3/8

"

7/8

"
Forged
4
Kingpin
Double Ball
0000000
000000
6"
3"
8

1/2

"
6,000
1

3/8

"

7/8

"
Forged
6
Kingpin
Tapered Roller
0000000
000000
8"
4"
10

1/2

"
8,300
1

3/4

"

11/16

"
Forged
6
Kingpin
Tapered Roller
0000000
000000