About Flanged
Flow-Adjustment

Valves
Ceramic Flanged
Flow-Adjustment

Valves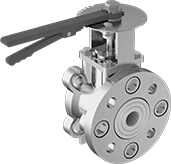 Valve

Type:

Ball

For Use

With:

Hydrochloric

Acid,

Kerosene,

Methyl Ethyl

Ketone,

Natural

Gas,

Phosphoric

Acid,

Toluene
Seat

Material:

Alumina Ceramic
Housing

Material:

304 Stainless Steel
Specifications

Met:

ANSI Class IV
Made of alumina ceramic components that resist most chemicals for a long time, use these valves to manually adjust the flow of extremely corrosive fluids—they connect to pipe flanges with bolts. Their ceramic components are harder than stainless steel and withstand abrasion from particles in waste acids and other chemical slurries, which are common in power plants, paper mills, and refineries. They also handle vapor bubbles in systems that have big pressure changes. To protect the ceramic from impact, while also resisting corrosion, their housing is stainless steel. These valves are also known as ball valves.
Adjust the flow of fluids by hand using the lever, which opens and closes the valves in 10% increments. If you want to replace the lever with an actuator, use the mounting holes, which meet ISO 5211 dimensional standards. These valves meet ANSI Class IV for tight shutoff and have a leakage rate of less than 0.01%.
Full-port valves do not restrict flow when fully open, so they have minimal impact on pressure in that position.
Standard-port valves slightly restrict flow when fully open, which reduces abrasion to downstream components. However, they create a larger pressure drop than full-port valves.
Flow coefficient (Cv) is the amount of water (in gallons per minute) at 60° F that will flow through a fully open valve with a difference of 1 psi between the inlet and the outlet.
For technical drawings and 3-D models, click on a part number.
Pipe
Size
Port
Type
Pressure
Class
Flange
OD
Bolt
Circle
Diameter
Number
of Bolt
Holes
Bolt
Hole
Size
Bolts
Included
Flow
Coefficient


(Cv)

Maximum
Pressure
Temperature


Range,




°F

End-to-End


Length
Each

Alumina Ceramic

Body—

304 Stainless Steel Disc

1/2

Full
150
3

3/4

"
2

3/8

"
4

1/2

"
No
8
150 psi @ 390° F
40° to 390°
2

13/16

"
0000000
000000000
1

Full
150
4

7/8

"
3

1/2

"
4

5/8

"
No
24
150 psi @ 390° F
40° to 390°
3

3/8

"
0000000
00000000
1

1/2

Full
150
5

1/2

"
3

7/8

"
4

1/2

"
No
55
150 psi @ 390° F
40° to 390°
4

3/8

"
0000000
00000000
2

Standard
150
6

1/8

"
4

3/4

"
4

5/8

"
No
50
150 psi @ 390° F
40° to 390°
4

3/4

"
0000000
00000000