Individual/Set

Individual/Set

Show
Individual/Set

Individual/Set

Hide
Handle Opening Style

Handle Opening Style
With Wire Cutter

With Wire Cutter
DFARS (Defense Acquisition Regulations Supplement)

DFARS

(Defense

Acquisition
Regulations

Supplement)
Container Type

Container Type
Locking Pliers Sets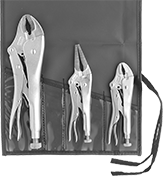 Lock the jaws in a vise-like grip around a workpiece and these assorted pliers stay clamped in place to leave your hands free. Turn the screw to adjust the pressure and squeeze the handles to lock. Sets include two jaw styles: flat-jaw pliers designed to grip flat objects and curved-jaw pliers that provide a good grip on a variety of shapes.
Pliers with lever release open when you press the lever.
Pliers with quick release are easier to open with one hand than lever release—push the handles open with your fingers. They have a plastic grip for comfort.
No.

of
Pieces
Includes
Grip Style
Material
Container Type
Each

Cushion Grip with Quick Release

4
7" Lg. Flat-Jaw Locking Pliers
10" Lg. Curved-Jaw Locking Pliers
5" Lg. Curved-Jaw Locking Pliers with Wire Cutter
6" Lg. Long-Nose Locking Pliers with Wire Cutter
Cushion
Steel
__
0000000
000000

Plain Grip with Lever Release

3
7" Lg. Flat-Jaw Locking Pliers
10" Lg. Curved-Jaw Locking Pliers with Wire Cutter
6

1/2

" Lg. Long-Nose Locking Pliers with Wire Cutter
Plain
Steel
__
0000000
00000
3
5" Lg. Curved-Jaw Locking Pliers with Wire Cutter
10" Lg. Curved-Jaw Locking Pliers with Wire Cutter
6

1/2

" Lg. Long-Nose Locking Pliers with Wire Cutter
Plain
Steel
Plastic Pouch
0000000
00000
4
7" Lg. Flat-Jaw Locking Pliers
10" Lg. Flat-Jaw Locking Pliers
10" Lg. Curved-Jaw Locking Pliers with Wire Cutter
6

1/2

" Lg. Long-Nose Locking Pliers with Wire Cutter
Plain
Steel
Plastic Pouch
0000000
00000
10
7" Lg. Flat-Jaw Locking Pliers
10" Lg. Flat-Jaw Locking Pliers
6" Lg. Flat-Jaw Locking Pliers with Wire Cutter
9" Lg. Flat-Jaw Locking Pliers with Wire Cutter
7" Lg. Curved-Jaw Locking Pliers
10" Lg. Curved-Jaw Locking Pliers
5" Lg. Curved-Jaw Locking Pliers with Wire Cutter
7" Lg. Curved-Jaw Locking Pliers with Wire Cutter
6" Lg. Locking Plier Clamp
11" Lg. Locking Plier Clamp
Plain
Steel
Plastic Case
0000000
000000