Magnetic-Mount

Bench Vise Jaw Liners

A

B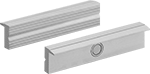 C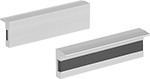 D

E

F

G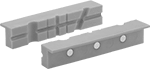 H
Quickly install these magnetic-backed liners to protect workpieces from marring.
Grooved liners are used for clamping uneven and round workpieces. Style E have tabs to keep the liner in place.
Fiber-coated liners are nonabsorbent and firmer than rubber.
Rubber-coated liners are slip resistant and will conform slightly to a part.

A

B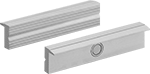 C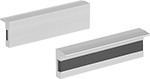 D

E

F

G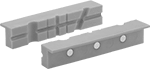 H
Groove
Orientation
For
Jaw


Wd.

Wd.

Ht.

Thick.

For
Workpiece


Dia.

Pair

Aluminum

C
Horizontal
4"
4"
1

1/8

"

3/4

"
__
0000000
000000
C
Horizontal
4

1/2

"
4

1/2

"
1

1/8

"

3/4

"
__
0000000
00000
C
Horizontal
5"
5"
1

1/8

"

3/4

"
__
0000000
00000
C
Horizontal
5

1/2

"
5

1/2

"
1

1/4

"

7/16

"
__
0000000
00000
C
Horizontal
6"
6"
1

1/8

"

3/4

"
__
0000000
00000
C
Horizontal
6

1/2

"
6"
1

1/4

"

7/16

"
__
0000000
00000
D
Horizontal
4"
4"
1"

1/2

"
__
0000000
00000
D
Horizontal
4

1/2

"
4

1/2

"
1"

1/2

"
__
0000000
00000
D
Horizontal
5"
5"
1"

1/2

"
__
0000000
00000
D
Horizontal
5

1/2

"
5

1/2

"
1"

1/2

"
__
0000000
00000
D
Horizontal
6"
6"
1"

1/2

"
__
0000000
00000
D
Horizontal
8"
8"
1"

1/2

"
__
0000000
00000
E
Horizontal, Vertical
4"
4"
1

1/8

"

3/4

"
__
0000000
00000
E
Horizontal, Vertical
4

1/2

"
4

1/2

"
1

1/8

"

3/4

"
__
0000000
00000
E
Horizontal, Vertical
5"
5"
1

1/8

"

3/4

"
__
0000000
00000
E
Horizontal, Vertical
5

1/2

"
5

1/2

"
1

1/4

"

7/16

"
__
0000000
00000
E
Horizontal, Vertical
6"
6"
1

1/8

"

3/4

"
__
0000000
00000
E
Horizontal, Vertical
6

1/2

"
6"
1

1/4

"

7/16

"
__
0000000
00000
F
Vertical
5"
5"
1

1/8

"
2

1/8

"
5mm, 9mm, 10mm, 12mm, 14mm, 20mm, 25mm, 30mm, 36mm
0000000
00000

Nylon Plastic

G
Horizontal, Vertical, Diagonal
5"
4

7/8

"
1"

1/2

"
__
000000
00000

Polyurethane Plastic

H
Horizontal, Vertical
6"
6"
1"

1/2

"

1/2

"
0000000
00000