Magnetic Workholding Plates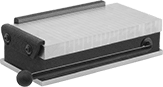 The entire surface of these plates is magnetic to provide a powerful hold for grinding, drilling, and electrical discharge machining (EDM). They're useful when clamps would interfere with your process and when there aren't any convenient spots for clamping material. Pull the handle to switch the magnets on and off. Use the mounting clamps to secure the plate to your machine table and the removable back and side rails to keep your workpiece in position. Plates are sealed against dirt and liquid so they can be submerged in oil baths. They are not recommended for processes where workpieces are submerged in water.
Fine magnetic pole spacing provides the best hold on small or thin (1/4" or less) parts.
Standard magnetic pole spacing is suitable for most applications. It will provide the best grip on large or thick parts.
Plates with fine and standard magnetic pole spacing have more than twice the holding power of other plates. Use them with large and small parts.
For technical drawings and 3-D models, click on a part number.
Lg.

Wd.

Ht.

Max.


Holding


Power,

psi
Magnet
Type
Parallel
Tolerance
Handle
Attachment
Type
Number of
Mounting
Clamps Included
Mounting
Clamp
Hole Diameter
Each

Fine Magnetic Pole Spacing

7

1/2

"
4"
2

3/4

"
40
Permanent
0.002"
Removable
2

9/16

"
0000000
0000000
10

1/2

"
5"
2

3/4

"
40
Permanent
0.002"
Removable
2

9/16

"
0000000
00000000
12

1/2

"
6"
2

3/4

"
40
Permanent
0.002"
Removable
2

9/16

"
0000000
00000000
12

1/2

"
8"
2

3/4

"
40
Permanent
0.002"
Removable
2

9/16

"
0000000
00000000
12

1/2

"
12"
2

3/4

"
40
Permanent
0.002"
Permanent
2

9/16

"
0000000
00000000
14

1/2

"
6"
2

3/4

"
40
Permanent
0.002"
Removable
2

9/16

"
0000000
00000000
15

1/2

"
8"
2

3/4

"
40
Permanent
0.002"
Permanent
2

9/16

"
0000000
00000000
15

1/2

"
10"
2

3/4

"
40
Permanent
0.002"
Permanent
2

9/16

"
0000000
00000000
18

1/2

"
6"
2

3/4

"
40
Permanent
0.002"
Removable
2

9/16

"
0000000
00000000
18

1/2

"
8"
2

3/4

"
40
Permanent
0.002"
Permanent
2

9/16

"
0000000
00000000
18

1/2

"
10"
2

3/4

"
40
Permanent
0.002"
Permanent
2

9/16

"
0000000
00000000
18

1/2

"
12"
2

3/4

"
40
Permanent
0.002"
Permanent
2

9/16

"
0000000
00000000
24

1/2

"
8"
2

3/4

"
40
Permanent
0.002"
Permanent
2

9/16

"
0000000
00000000
24

1/2

"
10"
2

3/4

"
40
Permanent
0.002"
Permanent
2

9/16

"
0000000
00000000
24

1/2

"
12"
2

3/4

"
40
Permanent
0.002"
Permanent
2

9/16

"
0000000
00000000

Standard Magnetic Pole Spacing

7

1/2

"
4"
2

3/4

"
40
Permanent
0.002"
Removable
2

9/16

"
0000000
000000
10

1/2

"
5"
2

3/4

"
40
Permanent
0.002"
Removable
2

9/16

"
0000000
00000000
12

1/2

"
6"
2

3/4

"
40
Permanent
0.002"
Removable
2

9/16

"
0000000
00000000
12

1/2

"
8"
2

3/4

"
40
Permanent
0.002"
Removable
2

9/16

"
0000000
00000000
12

1/2

"
12"
2

3/4

"
40
Permanent
0.002"
Permanent
2

9/16

"
0000000
00000000
14

1/2

"
6"
2

3/4

"
40
Permanent
0.002"
Removable
2

9/16

"
0000000
00000000
15

1/2

"
8"
2

3/4

"
40
Permanent
0.002"
Permanent
2

9/16

"
0000000
00000000
15

1/2

"
10"
2

3/4

"
40
Permanent
0.002"
Permanent
2

9/16

"
0000000
00000000
18

1/2

"
6"
2

3/4

"
40
Permanent
0.002"
Removable
2

9/16

"
0000000
00000000
18

1/2

"
8"
2

3/4

"
40
Permanent
0.002"
Permanent
2

9/16

"
0000000
00000000
18

1/2

"
10"
2

3/4

"
40
Permanent
0.002"
Permanent
2

9/16

"
0000000
00000000
18

1/2

"
12"
2

3/4

"
40
Permanent
0.002"
Permanent
2

9/16

"
0000000
00000000
24

1/2

"
8"
2

3/4

"
40
Permanent
0.002"
Permanent
2

9/16

"
0000000
00000000
24

1/2

"
10"
2

3/4

"
40
Permanent
0.002"
Permanent
2

9/16

"
0000000
00000000
24

1/2

"
12"
2

3/4

"
40
Permanent
0.002"
Permanent
2

9/16

"
0000000
00000000

Fine and Standard Magnetic Pole Spacing

4

3/4

"
4"
2

1/2

"
90
Permanent
0.002"
Permanent
2

9/16

"
0000000
00000000
7

1/4

"
6

1/2

"
2

3/4

"
90
Permanent
0.002"
Permanent
2

9/16

"
0000000
00000000
9

1/4

"
4"
2

1/2

"
90
Permanent
0.002"
Permanent
2

9/16

"
0000000
00000000
11

1/4

"
5"
2

3/4

"
90
Permanent
0.002"
Permanent
2

9/16

"
0000000
00000000
11

1/4

"
6"
2

3/4

"
90
Permanent
0.002"
Permanent
2

9/16

"
0000000
00000000
13

1/4

"
5"
2

3/4

"
90
Permanent
0.002"
Permanent
2

9/16

"
0000000
00000000
13

1/4

"
6"
2

3/4

"
90
Permanent
0.002"
Permanent
2

9/16

"
0000000
00000000
15

1/2

"
6"
2

3/4

"
90
Permanent
0.002"
Permanent
2

9/16

"
0000000
00000000
15

3/4

"
8"
2

3/4

"
90
Permanent
0.002"
Permanent
2

9/16

"
0000000
00000000
15

3/4

"
10"
2

3/4

"
90
Permanent
0.002"
Permanent
2

9/16

"
0000000
00000000
18

3/4

"
8"
2

3/4

"
90
Permanent
0.002"
Permanent
2

9/16

"
0000000
00000000
18

3/4

"
10"
2

3/4

"
90
Permanent
0.002"
Permanent
2

9/16

"
0000000
00000000
18

3/4

"
12"
3

1/2

"
90
Permanent
0.002"
Permanent
2

9/16

"
0000000
00000000
20"
6"
2

3/4

"
90
Permanent
0.002"
Permanent
2

9/16

"
0000000
00000000
20

3/4

"
8"
2

3/4

"
90
Permanent
0.002"
Permanent
2

9/16

"
0000000
00000000
20

3/4

"
10"
2

3/4

"
90
Permanent
0.002"
Permanent
2

9/16

"
0000000
00000000
24

3/4

"
8"
2

3/4

"
90
Permanent
0.002"
Permanent
2

9/16

"
0000000
00000000
24

3/4

"
10"
3

1/2

"
90
Permanent
0.002"
Permanent
2

9/16

"
0000000
00000000
24

3/4

"
12"
3

1/2

"
90
Permanent
0.002"
Permanent
2

9/16

"
0000000
00000000