Stainless Steel Bench Vises for Washdown Applications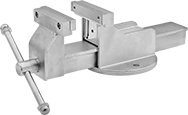 With Flat Jaws and Fixed Base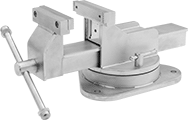 With Flat Jaws and Swivel Base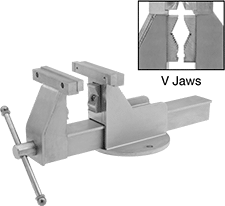 With Flat and V Jaws and Fixed Base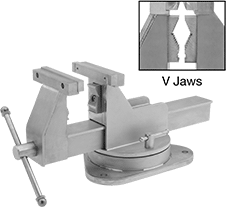 With Flat and V Jaws and Swivel Base
Made of 304 stainless steel to stand up to washdown environments, such as food and beverage production, these are the most corrosion-resistant vises we offer. They have flat jaws and include two additional pairs of nonmarring jaws: one serrated plastic and one smooth stainless steel.
Vises with flat and V jaws (also known as pipe jaws) have a second set of jaws that securely grip pipe and other round objects.
Vises with swivel base rotate 360° and can be locked in place.
Wd.

Max.


Opening
Material
Texture
Includes
Throat


Dp.

Lg.

Wd.

Ht.

Wt.,




lbs.

Mounting
Fasteners
Included

No.


of

Dia.

Each

Vises with Flat Jaws

Fixed Base

4"
6"
304 Stainless Steel
Serrated
One Pair of Smooth 304 Stainless Steel Flat Jaws; One Pair of Serrated Plastic Flat Jaws
2

1/4

"
14

1/2

"
5

3/4

"
4

1/2

"
17
No
2

7/16

"
0000000
0000000
4"
6"
304 Stainless Steel
Serrated
One Pair of Smooth 304 Stainless Steel Flat Jaws; One Pair of Serrated Plastic Flat Jaws
2

1/4

"
15"
8

3/4

"
6"
25
No
3

7/16

"
0000000
00000000
Wd.

Max.


Opening

Wd.

V Jaw


For


Dia.

Jaw
Material
Jaw
Texture
Includes
Throat


Dp.

Lg.

Wd.

Ht.

Wt.,




lbs.

Mounting
Fasteners
Included

No.


of

Dia.

Each

Vises with Flat and V Jaws

Fixed Base

6"
10"
1

3/4

"

1/4

"-3

1/2

"
304 Stainless Steel
Serrated
One Pair of Smooth 304 Stainless Steel Flat Jaws; One Pair of Serrated Plastic Flat Jaws
5"
21

1/4

"
6

3/4

"
7

1/4

"
36
No
2

9/16

"
0000000
000000000
6"
10"
1

3/4

"

1/4

"-3

1/2

"
304 Stainless Steel
Serrated
One Pair of Smooth 304 Stainless Steel Flat Jaws; One Pair of Serrated Plastic Flat Jaws
5"
21

1/4

"
8"
9"
46
No
3

1/2

"
0000000
00000000
Replacement Bench Vise Jaws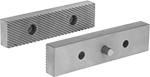 Flat Jaws

Wd.

Material
Texture
Each

Flat Jaws

4"
304 Stainless Steel
Serrated
0000000
0000000
4"
304 Stainless Steel
Smooth
0000000
000000
4"
Nylon Plastic
Smooth
0000000
00000
6"
304 Stainless Steel
Serrated
0000000
000000
6"
304 Stainless Steel
Smooth
0000000
000000
6"
Nylon Plastic
Smooth
0000000
00000
1

3/4

"
304 Stainless Steel
Serrated
0000000
000000