Hand Winches for
Webbing—

For Horizontal Pulling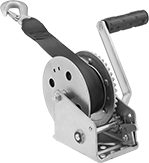 Winch
Webbing wraps neatly around the winch to prevent tangles in the line.
Winches with two speeds wind quickly in high gear and more easily in low gear.
Note: Capacity is highest for the first layer of webbing (at least five wraps of webbing on the winch) and decreases as each additional layer of webbing is wound on the winch.
Replacement
Webbing with
Hook on One End

Max.




Cap.,




lbs.

Fully
Wound


Cap.,

lbs.

Webbing


Wd.

Webbing


Lg.,




ft.

O'all




Wd.

O'all




Lg.

O'all




Ht.

Handle


Lg.

Material
Gear
Speed
Ratio
Each
Each
900
450
2"
15
5

1/8

"
5

1/4

"
4"
7"
Steel
3.2:1
0000000
000000
0000000
000000
1,100
500
2"
15
5

1/8

"
6

7/8

"
5

3/8

"
7"
Steel
3.7:1
0000000
00000
0000000
00000
1,600
775
2"
20
5

3/4

"
7

1/2

"
6

3/4

"
10"
Steel
5.4:1
0000000
000000
0000000
00000
2,000
1,050
2"
20
6

1/2

"
8

7/8

"
6

7/8

"
10"
Steel
5.4:1, 12.4:1
0000000
000000
0000000
00000
2,500
1,300
2"
25
6

1/2

"
9

1/2

"
7

1/2

"
10"
Steel
5.4:1, 17.3:1
0000000
000000
0000000
00000
3,200
1,850
2"
20
6

1/2

"
9

1/2

"
7

1/2

"
10"
Steel
5.4:1, 17.3:1
0000000
000000
0000000
00000