Wire Racks for Plastic Shopping Bags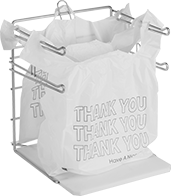 Freestanding Wire Rack Shown with Plastic Bags
(Sold Separately)
Keep a supply of plastic shopping bags (sold separately) ready for use with these racks that also hold bags open for easy filling. Hang your bags on the bag hook to position them for easy, one-handed dispensing and use the arms to hold the bags open. The greater the arm depth, the more bags the racks can hold. Made of chrome-plated steel, these racks are strong enough to withstand the wear and tear of repeated use. They won't rust when exposed to water and have a smooth surface, so they can be easily cleaned.
Freestanding racks sit on counters and can be quickly moved as needed. All have a plastic base, which protects surfaces from scratches and supports the bottom of bags when loading them. They also have two sets of arms—the upper arms hold standard-sized shopping bags, while the lower arms can hold smaller-sized bags. Use the optional adapters to hang these freestanding racks from checkout counter end-fences to free up valuable counter space.
Screw-mount racks can be fixed to walls to save counter space or attached to bagging stations for a secure hold. More compact than freestanding racks, they're often used in tight or small spaces.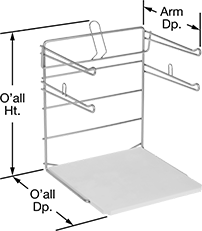 Freestanding Rack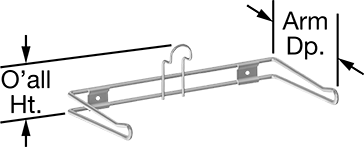 Optional Rack Adapter for Freestanding Rack
Width
Height
Depth
Number
of
Arms
Arm
Depth
Material
Features
Includes
Mounting
Fasteners
Included

Pkg.




Qty.

Pkg.

Pkg.




Qty.

Pkg.

Freestanding

12"
14"
12"
4
10"
Chrome-Plated Steel
Bag Hook
Plastic Base
__
2
0000000
0000000
2
0000000
000000
12"
15

1/4

"
12"
4
10"
Chrome-Plated Steel
Bag Hook
Plastic Base
__
2
0000000
000000
2
0000000
00000
12"
19

1/4

"
12"
4
10"
Chrome-Plated Steel
Bag Hook
Plastic Base
__
2
0000000
00000
2
0000000
00000
12"
1

3/4

"
2

1/4

"
2
2

1/4

"
Chrome-Plated Steel
Bag Hook
__
Yes
2
0000000
00000
__
000000
00
12"
1

3/4

"
6"
2
6"
Chrome-Plated Steel
Bag Hook
__
Yes
2
0000000
00000
__
000000
00