Wire Splice and Tap Assortments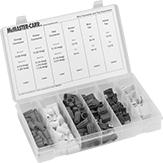 No crimping or wire stripping needed—this assortment includes twist-on wire connectors and insulation-piercing wire taps.
Number
of
Pieces
Includes
For
Wire
Type

Max.


Voltage

Max.




Temp.,




°F

Each
100
75 twist-on wire connectors for wire sizes 22-8 AWG (orange, yellow, and red)
25 insulation-piercing wire taps for wire sizes 16-10 AWG for the main connection and 18-10 AWG for the tap connection
Plastic Case
Solid, Stranded
300V DC
300V AC
220°
0000000
000000
Terminal and Splice Assortments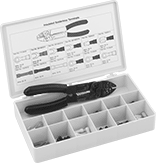 Use the included crimping tool to install a variety of terminals and butt splices.
Number
of
Pieces
Includes
Insulation
Material

Max.


Voltage

Max.




Temperature,




°F

Specifications
Met
Each
490
Crimping Tool
Ring Terminals (22-10 AWG)
Spade Terminals (22-10 AWG)
Male and Female Quick-Disconnect Terminals (16-14 AWG)
Butt Splices (22-10 AWG)
Crimp-On Wire Connectors (22-10 AWG; 22-14 AWG rated to 300 volts)
Insulation-Piercing Wire Taps (16-14 AWG)
Metal Case
Vinyl Plastic
300V AC, 300V DC, 600V AC, 600V DC
220°
UL Listed

000000
0000000