Medical-Grade

AC to DC Adapters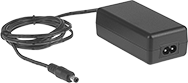 IEC C8
Input and Barrel Output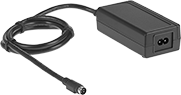 IEC C8
Input and
4-Pin
Output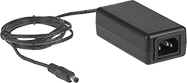 IEC C14
Input and Barrel Output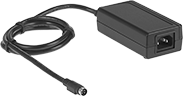 IEC C14
Input and
4-Pin
Output

IEC C14
Input and
6-Pin
Output

Barrel Output


Positive



To run DC-powered lab and medical equipment from your outlet, add a power cord with the plug style and length you need. All of these adapters meet strict IEC standards while some also meet ANSI/AAMI (Association for the Advancement of Medical Instrumentation) standards for use with medical devices. They also have a Means of Protection rating of 2xMOPP, which is the highest level of shock protection available for medical-grade power supplies, so in addition to using them with lab and medical equipment, you can use them with devices that come into contact with patients.
Unlike adapters with bodies that plug directly into an outlet, the body of these adapters rests on a desk or the floor, so it won't block multiple outlets. Adapters with an IEC C8 input connection require power cords with a C7 socket. Those with an IEC C14 input connection require power cords with a C13 socket.
When selecting an adapter, make sure the DC voltage and amps for the barrel or pin output connection can handle the requirements of your device. Choosing a DC voltage and amps that are much higher than you need will not improve performance. For adapters with a barrel output connection, the polarity of your power cord and your device must be the same. Look for the polarity illustration on your device or the adapter you're replacing and make sure your power cord matches it.
These adapters use switching regulation, which means they produce the stated voltage despite fluctuations in your outlet's power and the power being drawn by your device. It also means they won't get too hot.
If you exceed the maximum voltage or load, these adapters shut down to protect both the adapters and the connected equipment.
All of these adapters meet U.S. UL safety standards. Some also meet Canadian and European safety standards. Adapters with Class II shock protection have two levels of insulation to prevent electrical shocks. Those with Class I shock protection prevent electrical shocks with a combination of insulation and a protective ground.
Some of these adapters meet U.S. DOE (Department of Energy) Level VI standards for energy efficiency when they're in-use, as well as when they're plugged in but not in use. Others also meet ErP (European Union) Stage 2 standards for energy efficiency when you are using them.
Barrel/Pin

Output Connection

Straight-Blade

Input Connection

Voltage

Current,


A
Polarity
End


ID,


mm
End


OD,


mm
End
Shape
Voltage

Current,


A
End
Shape

Lg.,




ft.

Shock
Protection
Class
Protections
Provided
Specifications
Met
Color
Each

IEC C8 Input × Barrel Output

12V DC
7
Positive
2.1
5.5
Straight
120V AC, 240V AC
1.2
Straight
5
II
Overload, Overvoltage, Short Circuit
UL Recognized Component, C-UL Recognized Component, DOE Level VI Efficiency, ANSI/AAMI 60601-1, ErP Stage 2 Efficiency, IEC 60601-1, TUV Rheinland Certified
Black
00000000
000000
24V DC
1.5
Positive
2.1
5.5
Straight
120V AC, 240V AC
1
Straight
5
II
Overload, Overvoltage, Short Circuit
UL Recognized Component, C-UL Recognized Component, DOE Level VI Efficiency, ANSI/AAMI 60601-1, ErP Stage 2 Efficiency, IEC 60601-1, TUV Rheinland Certified
Black
00000000
00000
24V DC
5
Positive
2.1
5.5
Straight
120V AC, 240V AC
1.4
Straight
5
II
Overload, Overvoltage, Short Circuit
UL Recognized Component, C-UL Recognized Component, DOE Level VI Efficiency, ANSI/AAMI 60601-1, ErP Stage 2 Efficiency, IEC 60601-1, TUV SUD Certified
Black
00000000
00000
48V DC
1.9
Positive
2.1
5.5
Straight
120V AC, 240V AC
1.2
Straight
5
II
Overload, Overvoltage, Short Circuit
UL Recognized Component, C-UL Recognized Component, DOE Level VI Efficiency, ANSI/AAMI 60601-1, ErP Stage 2 Efficiency, IEC 60601-1, TUV Rheinland Certified
Black
00000000
00000

IEC C8 Input ×

4-Pin

Output

12V DC
9
__
__
__
Straight
120V AC, 240V AC
1.4
Straight
5
II
Overload, Overvoltage, Short Circuit
UL Recognized Component, C-UL Recognized Component, DOE Level VI Efficiency, ANSI/AAMI 60601-1, ErP Stage 2 Efficiency, IEC 60601-1, TUV SUD Certified
Black
00000000
00000

IEC C14 Input × Barrel Output

48V DC
2.5
Positive
2.1
5.5
Straight
120V AC, 240V AC
1.4
Straight
5
I
Overload, Overvoltage, Short Circuit
UL Recognized Component, C-UL Recognized Component, DOE Level VI Efficiency, ANSI/AAMI 60601-1, ErP Stage 2 Efficiency, IEC 60601-1, TUV SUD Certified
Black
00000000
00000

IEC C14 Input ×

4-Pin

Output

12V DC
9
__
__
__
Straight
120V AC, 240V AC
1.4
Straight
5
I
Overload, Overvoltage, Short Circuit
UL Recognized Component, C-UL Recognized Component, DOE Level VI Efficiency, ANSI/AAMI 60601-1, ErP Stage 2 Efficiency, IEC 60601-1, TUV SUD Certified
Black
00000000
00000

IEC C14 Input ×

6-Pin

Output

24V DC
12.5
__
__
__
Straight
120V AC, 240V AC
3.4
Straight
5
I
Overload, Overvoltage, Short Circuit
UL Recognized Component, C-UL Recognized Component, DOE Level VI Efficiency, ANSI/AAMI 60601-1, ErP Stage 2 Efficiency, IEC 60601-1, TUV SUD Certified
Black
00000000
000000