Adjustable-Height

Stainless Steel Tables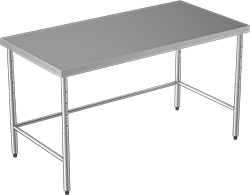 Table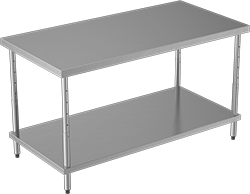 Table with Shelf
Often used in laboratories and food-processing areas, these tables withstand repeated washdowns and resist damage from grease and chemicals. All meet NSF/ANSI standards for food equipment.
Use these tables as a work surface for machines and equipment. They can be configured for either seated or standing tasks. Remove and reposition the leg bolts to adjust height in 3" increments. They have leveling feet to compensate for uneven floors.
Tables with shelf allow you to position the shelf anywhere below the tabletop.
For technical drawings and 3-D models, click on a part number.
Ht.

Wd.

Dp.

Top
Shelf
Overall
Type
Material
Gauge

Dp.

Material
Gauge

Ctr.-to-Ctr.

Type
Specifications
Met
Assembled
or
Unassembled
Each

Tables

22"-34"
48"
30"
650
__
650
__
__
__
__
Stainless Steel
16
3"
Bolt
NSF/ANSI 2

Assembled
0000000
0000000
22"-34"
60"
30"
825
__
825
__
__
__
__
Stainless Steel
16
3"
Bolt
NSF/ANSI 2

Assembled
0000000
00000000
22"-34"
72"
30"
975
__
975
__
__
__
__
Stainless Steel
16
3"
Bolt
NSF/ANSI 2

Assembled
0000000
00000000
22"-34"
72"
36"
775
__
775
__
__
__
__
Stainless Steel
16
3"
Bolt
NSF/ANSI 2

Assembled
0000000
00000000
22"-34"
96"
30"
1,300
__
1,300
__
__
__
__
Stainless Steel
16
3"
Bolt
NSF/ANSI 2

Assembled
0000000
00000000

Tables with Shelf

22"-34"
48"
24"
425
200
625
Adjustable
Stainless Steel
18
22"
Stainless Steel
16
3"
Bolt
NSF/ANSI 2

Assembled
0000000
000000
22"-34"
48"
30"
650
195
825
Adjustable
Stainless Steel
18
28"
Stainless Steel
16
3"
Bolt
NSF/ANSI 2

Assembled
0000000
00000000
22"-34"
60"
24"
450
225
775
Adjustable
Stainless Steel
18
22"
Stainless Steel
16
3"
Bolt
NSF/ANSI 2

Assembled
0000000
00000000
22"-34"
60"
30"
825
195
1,000
Adjustable
Stainless Steel
18
28"
Stainless Steel
16
3"
Bolt
NSF/ANSI 2

Assembled
0000000
00000000
22"-34"
72"
30"
975
195
1,150
Adjustable
Stainless Steel
18
28"
Stainless Steel
16
3"
Bolt
NSF/ANSI 2

Assembled
0000000
00000000
22"-34"
72"
36"
675
300
975
Adjustable
Stainless Steel
18
34"
Stainless Steel
16
3"
Bolt
NSF/ANSI 2

Assembled
0000000
00000000
22"-34"
96"
30"
1,300
390
1,675
Adjustable
Stainless Steel
18
28"
Stainless Steel
16
3"
Bolt
NSF/ANSI 2

Assembled
0000000
00000000