Downdraft Tables for Woodworking
Keep sawdust and other particles out of the air while drilling, sanding, and finishing wood products. Air blowers pull particles into the table through holes in the surface, making sure you don't breathe them. Inside the table, filters remove the particles, and exhaust vents release clean air back into your shop.
These tables should only be used with wood, plastic composites, and other non-combustible materials. Do not use them to filter materials that may create sparks, such as metallic dust. They are not designed to filter liquids, exhaust fumes, or smoke.
When choosing a table, consider the size of the particles you need to filter.
3-micron tables are good for jobs that create fine dust and powder, such as sanding wood to an extra-fine finish. They have a stronger motor and higher airflow than 5-micron tables, which creates stronger suction. The table surface has an antislip coating that helps keep your workpiece in place. Roll these tables where you need them, then lock the casters in place while you work. Use the storage compartment to keep tools and other accessories handy.
For technical drawings and 3-D models, click on a part number.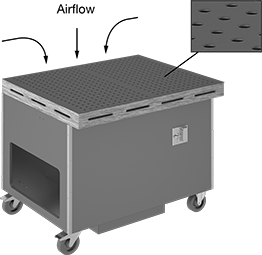 Downdraft Table with
3-Micron
Filters
Airflow,


cfm

Horsepower,


hp

Current,


A

Volume,


dB

Ht.

Wd.

Dp.

Opening


Dia.

O'all




Cap.,




lbs.

Features
Includes
Each

Painted Plywood Frame with Oak Top

120V

AC,

60Hz—

3-Prong

Plug

3,000
1
13
72
36"
41"
33"

3/8

"
250
Antislip Surface, Dust-Tight Electrical Outlets, Storage Compartment
Pre-Filter Blanket, Two MERV 8 Pleated Paper Filters
00000000
000000000
3,000
1
13
72
36"
60"
33"

3/8

"
250
Antislip Surface, Dust-Tight Electrical Outlets, Storage Compartment
Pre-Filter Blanket, Two MERV 8 Pleated Paper Filters
00000000
00000000
3,000
1
13
72
36"
72"
36"

3/8

"
250
Antislip Surface, Dust-Tight Electrical Outlets, Storage Compartment
Pre-Filter Blanket, Three MERV 8 Pleated Paper Filters
00000000
00000000