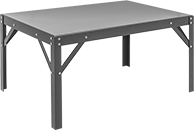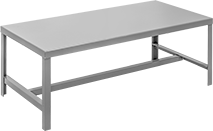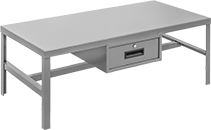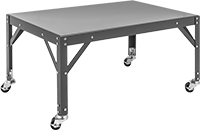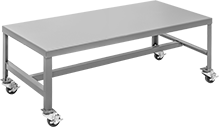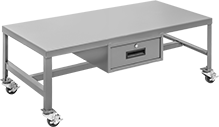 Green

Gray
These durable fixed-height tables won't warp or splinter. Use them to elevate machinery and equipment up to 24" from the floor.
Style A have a reversible top, allowing you to use the work surface either with or without a 2" high lip around the edge.
Style C have a drawer with a keyed lock.
For technical drawings and 3-D models, click on a part number.
Style

Ht.

Wd.

Dp.

Drawer
Overall
Material
Color
Gauge
Assembled
or
Unassembled
Features
Each

Stationary

A
18"
24"
18"
__
1,000
Painted Steel
Green
16
Unassembled
Reversible Top
0000000
0000000
A
18"
26"
22"
__
1,000
Painted Steel
Green
16
Unassembled
Reversible Top
0000000
000000
A
18"
30"
24"
__
1,000
Painted Steel
Green
16
Unassembled
Reversible Top
0000000
000000
A
18"
36"
24"
__
1,000
Painted Steel
Green
16
Unassembled
Reversible Top
0000000
000000
A
24"
24"
18"
__
1,000
Painted Steel
Green
16
Unassembled
Reversible Top
0000000
000000
A
24"
26"
22"
__
1,000
Painted Steel
Green
16
Unassembled
Reversible Top
0000000
000000
A
24"
30"
24"
__
1,000
Painted Steel
Green
16
Unassembled
Reversible Top
0000000
000000
A
24"
36"
24"
__
1,000
Painted Steel
Green
16
Unassembled
Reversible Top
0000000
000000
B
18"
24"
18"
__
2,000
Powder-Coated Steel
Gray
12
Assembled
__
00000000
000000
B
18"
36"
24"
__
2,000
Powder-Coated Steel
Gray
12
Assembled
__
00000000
000000
B
18"
48"
24"
__
2,000
Powder-Coated Steel
Gray
12
Assembled
__
000000000
000000
B
24"
24"
18"
__
2,000
Powder-Coated Steel
Gray
12
Assembled
__
00000000
000000
B
24"
36"
24"
__
2,000
Powder-Coated Steel
Gray
12
Assembled
__
00000000
000000
B
24"
48"
24"
__
2,000
Powder-Coated Steel
Gray
12
Assembled
__
000000000
000000
C
18"
36"
24"
40
2,000
Powder-Coated Steel
Gray
12
Assembled
__
000000000
000000
C
18"
48"
24"
40
2,000
Powder-Coated Steel
Gray
12
Assembled
__
000000000
000000
C
24"
36"
24"
40
2,000
Powder-Coated Steel
Gray
12
Assembled
__
000000000
000000
C
24"
48"
24"
40
2,000
Powder-Coated Steel
Gray
12
Assembled
__
000000000
000000

Mobile

A
18"
24"
18"
__
500
Painted Steel
Green
16
Unassembled
Reversible Top
00000000
000000
A
18"
26"
22"
__
500
Painted Steel
Green
16
Unassembled
Reversible Top
00000000
000000
A
18"
30"
24"
__
500
Painted Steel
Green
16
Unassembled
Reversible Top
00000000
000000
A
18"
36"
24"
__
500
Painted Steel
Green
16
Unassembled
Reversible Top
00000000
000000
A
24"
24"
18"
__
500
Painted Steel
Green
16
Unassembled
Reversible Top
00000000
000000
A
24"
26"
22"
__
500
Painted Steel
Green
16
Unassembled
Reversible Top
00000000
000000
A
24"
30"
24"
__
500
Painted Steel
Green
16
Unassembled
Reversible Top
00000000
000000
A
24"
36"
24"
__
500
Painted Steel
Green
16
Unassembled
Reversible Top
00000000
000000
B
18"
24"
18"
__
500
Powder-Coated Steel
Gray
12
Assembled
__
000000000
000000
B
18"
36"
24"
__
500
Powder-Coated Steel
Gray
12
Assembled
__
000000000
000000
B
18"
48"
24"
__
500
Powder-Coated Steel
Gray
12
Assembled
__
000000000
000000
B
24"
24"
18"
__
500
Powder-Coated Steel
Gray
12
Assembled
__
000000000
000000
B
24"
36"
24"
__
500
Powder-Coated Steel
Gray
12
Assembled
__
000000000
000000
B
24"
48"
24"
__
500
Powder-Coated Steel
Gray
12
Assembled
__
000000000
000000
C
18"
36"
24"
40
500
Powder-Coated Steel
Gray
12
Assembled
__
000000000
000000
C
18"
48"
24"
40
500
Powder-Coated Steel
Gray
12
Assembled
__
000000000
000000
C
24"
36"
24"
40
500
Powder-Coated Steel
Gray
12
Assembled
__
000000000
000000
C
24"
48"
24"
40
500
Powder-Coated Steel
Gray
12
Assembled
__
000000000
000000