Stainless Steel
Bench-Height

Cabinets
Protect against corrosion with these stainless steel cabinets.
The 15" wide cabinets have a built-in maintenance cart to move large items, such as motors, pumps, and tanks, along with your tools and other small parts. Two additional center wheels let you spin the cabinets 360°, making them easy to get in and out of tight spaces, such as elevators and wire enclosures.
Stack a stainless steel tabletop drawer cabinet on top of the 41" or 54" wide cabinets to increase your storage space. When stacking, do not exceed the overall capacity of the bench-height cabinet.
For technical drawings and 3-D models, click on a part number.
Stainless Steel Bench-Height Cabinets with Maintenance Cart—Assembled
5 Drawer

Bench-Height

Cabinet with Maintenance Cart

Replacement Rigid Caster

Replacement Swivel Caster

Replacemenet Wheel
Replacement


6"

Rigid
Casters

Replacement

6"


Swivel Casters
with Brake

Replacement


10"

Rigid
Wheels

Total


No.

of
Drawers

No.


of

Ht.

Wd.

Dp.

Cap.,




lbs.

Ht.

Wd.

Dp.

Cap.,




lbs.

Color
Lock
Type
Each
Each
Each
Each
5
1
3
1
2 3/16"
4 1/8"
11 3/32"
10 11/16"
10 11/16"
10 11/16"
18"
18"
18"
100
100
100
43

1/8

"
15"
20"
3,600
Gray
Keyed
0000000
000000000
0000000
000000
0000000
0000000
0000000
000000
Stainless Steel Bench-Height Cabinets—Assembled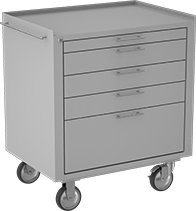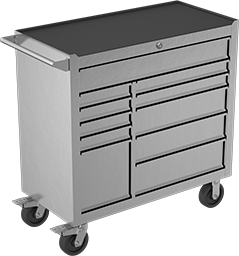 11 Drawer
Bench-Height
Cabinet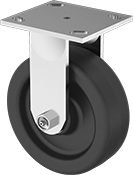 Replacement Rigid Caster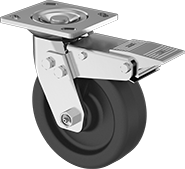 Replacement Swivel Caster
Replacement
Swivel
Casters with Brake

Total


No.

of
Drawers

No.


of

Ht.

Wd.

Dp.

Cap.,




lbs.

Ht.

Wd.

Dp.

Cap.,




lbs.

Color
Lock
Type
Each
Each
Each
5
1
3
1
2"
4"
10"
26 1/4"
26 1/4"
26 1/4"
16"
16"
16"
75
75
75
35"
30

1/2

"
21

1/2

"
1,000
Gray
Keyed
0000000
000000000
000000
00
000000
00
11
4
2
1
2
1
1
2 3/16"
2 3/16"
4 1/16"
5 1/8"
6 5/16"
12 3/16"
11 11/16"
23 5/8"
36 11/16"
23 5/8"
23 5/8"
11 11/16"
18"
18"
18"
18"
18"
18"
100
100
200
100
100
200
42

1/2

"
41"
20"
3,600
Gray
Keyed
0000000
00000000
0000000
000000
0000000
0000000
11
4
2
1
2
1
1
2 3/16"
2 3/16"
4 1/16"
5 1/8"
6 5/16"
12 3/16"
11 11/16"
35 5/8"
49 11/16"
35 5/8"
35 5/8"
22 11/16"
18"
18"
18"
18"
18"
18"
100
100
200
100
100
200
42

1/2

"
54"
20"
3,600
Gray
Keyed
0000000
00000000
0000000
00000
0000000
000000
Stainless Steel Tabletop Drawer Cabinets—Assembled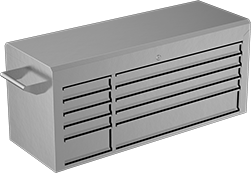 Tabletop Drawer Cabinet
Total

No.


of Drawers

No.


of

Ht.

Wd.

Dp.

Cap.,




lbs.

Ht.

Wd.

Dp.

Cap.,




lbs.

Color
Lock
Type
Each
10
1
1
4
4
5 1/8"
5 1/8"
2 3/16"
2 3/16"
11 11/16"
11 11/16"
23 5/8"
23 5/8"
18"
18"
18"
18"
100
100
100
100
23

5/8

"
41"
20"
1,200
Gray
Keyed
0000000
000000000
10
1
1
4
4
5 1/8"
5 1/8"
2 3/16"
2 3/16"
11 11/16"
11 11/16"
35 5/8"
35 5/8"
18"
18"
18"
18"
100
100
100
100
23

5/8

"
54"
20"
1,200
Gray
Keyed
0000000
00000000