Stainless Steel Tables with Shelves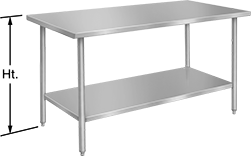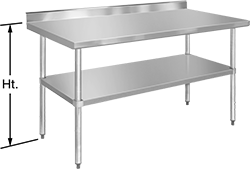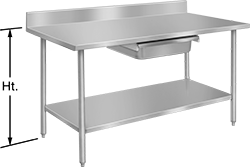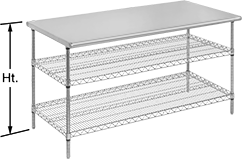 E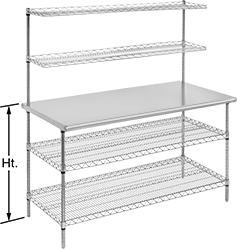 F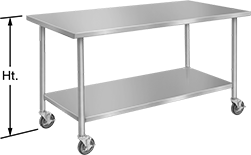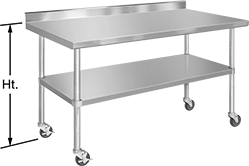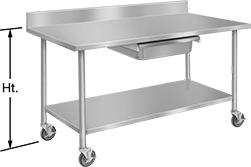 A lower shelf provides additional storage space. Often used in laboratories, these tables stand up to repeated washdowns and resist damage from grease and chemicals. Tables that meet NSF/ANSI standards can also be used in food service.
Use these tables as a work surface for machines and equipment. 29 1/4" high tables are standard table height. 34" to 36" high tables are the same height as most workbenches, making them a comfortable height for most standing tasks.
Stationary tables have leveling feet to compensate for uneven floors.
Styles A and C have a stainless steel top with galvanized steel legs and shelves. They are an economical alternative to all-stainless steel tables. Style C also have a backstop to prevent items from sliding off.
Style B with adjustable shelf allow you to position the shelf anywhere below the tabletop.
Style D have a backstop to prevent items from sliding off.
Styles E and F have wire shelves, which minimize dust collection and allow ventilation.
For technical drawings and 3-D models, click on a part number.
Style

Ht.

Wd.

Dp.

Top
Shelf
Drawer
Overall
Construction
Type

Dp.

Top
Gauge
Specifications
Met
Assembled
or
Unassembled
Each

Pkg.




Qty.

Pkg.

Stationary with Stainless Steel Top and Galvanized Steel Shelf

A
35"
48"
30"
650
195
__
825
Solid
Adjustable
30"
16
NSF/ANSI 2

Unassembled
000000
0000000
__
000000
00
A
35"
60"
30"
825
195
__
1,000
Solid
Adjustable
30"
16
NSF/ANSI 2

Unassembled
000000
000000
__
000000
00
A
35"
72"
30"
975
195
__
1,150
Solid
Adjustable
30"
16
NSF/ANSI 2

Unassembled
000000
000000
__
000000
00
A
35"
96"
30"
1,300
300
__
1,600
Solid
Adjustable
30"
16
NSF/ANSI 2

Unassembled
000000
000000
__
000000
00
C
35"
48"
30"
650
195
__
825
Solid
Adjustable
30"
16
NSF/ANSI 2

Unassembled
000000
000000
__
000000
00
C
35"
60"
30"
825
195
__
1,000
Solid
Adjustable
30"
16
NSF/ANSI 2

Unassembled
000000
000000
__
000000
00
C
35"
72"
30"
975
195
__
1,150
Solid
Adjustable
30"
16
NSF/ANSI 2

Unassembled
000000
000000
__
000000
00
C
35"
96"
30"
1,300
300
__
1,600
Solid
Adjustable
30"
16
NSF/ANSI 2

Unassembled
000000
000000
__
000000
00

Stationary with Stainless Steel Top and Stainless Steel Shelf

B
34"
48"
30"
400
305
__
700
Solid
Fixed
27"
16
NSF/ANSI 2

Assembled
0000000
00000000
__
000000
00
B
34"
60"
30"
450
345
__
775
Solid
Fixed
27"
16
NSF/ANSI 2

Assembled
0000000
00000000
__
000000
00
B
34"
72"
30"
400
320
__
700
Solid
Fixed
27"
16
NSF/ANSI 2

Assembled
0000000
00000000
__
000000
00
B
34"
96"
30"
800
615
__
1,400
Solid
Fixed
27"
16
NSF/ANSI 2

Assembled
0000000
00000000
__
000000
00
B
36"
24"
24"
300
95
__
375
Solid
Fixed
21"
16
NSF/ANSI 2

Assembled
00000000
000000
__
000000
00
B
36"
30"
24"
375
120
__
475
Solid
Fixed
21"
16
NSF/ANSI 2

Assembled
00000000
000000
__
000000
00
B
36"
30"
30"
450
150
__
600
Solid
Fixed
29"
16
NSF/ANSI 2

Assembled
00000000
00000000
__
000000
00
B
36"
36"
30"
550
180
__
725
Solid
Fixed
29"
16
NSF/ANSI 2

Assembled
00000000
00000000
__
000000
00
B
36"
48"
30"
550
180
__
725
Solid
Adjustable
27"
16
NSF/ANSI 2

Unassembled
0000000
000000
__
000000
00
B
36"
60"
30"
650
180
__
825
Solid
Adjustable
27"
16
NSF/ANSI 2

Unassembled
0000000
000000
__
000000
00
B
36"
72"
30"
675
180
__
850
Solid
Adjustable
27"
16
NSF/ANSI 2

Unassembled
0000000
000000
__
000000
00
B
36"
96"
30"
1,300
300
__
1,600
Solid
Adjustable
27"
16
NSF/ANSI 2

Unassembled
0000000
00000000
__
000000
00
D
34"
48"
30"
400
305
25
700
Solid
Fixed
27"
16
NSF/ANSI 2

Assembled
0000000
00000000
__
000000
00
D
34"
60"
30"
450
345
25
775
Solid
Fixed
27"
16
NSF/ANSI 2

Assembled
0000000
00000000
__
000000
00
D
34"
72"
30"
400
320
25
700
Solid
Fixed
27"
16
NSF/ANSI 2

Assembled
0000000
00000000
__
000000
00
D
34"
96"
30"
800
615
25
1,400
Solid
Fixed
27"
16
NSF/ANSI 2

Assembled
0000000
00000000
__
000000
00
E
34

1/2

"
36"
30"
325
800
__
1,925
Wire
Adjustable
__
16
NSF/ANSI 2

Unassembled
0000000
00000000
__
000000
00
E
34

1/2

"
48"
30"
450
800
__
2,050
Wire
Adjustable
__
16
NSF/ANSI 2

Unassembled
000000
00000000
__
000000
00
E
34

1/2

"
60"
30"
550
600
__
1,750
Wire
Adjustable
__
16
NSF/ANSI 2

Unassembled
000000
00000000
__
000000
00
F
34

1/2

"
36"
30"
325
800, 50
__
2,025
Wire
Adjustable
__
16
NSF/ANSI 2

Unassembled
0000000
00000000
__
000000
00
F
34

1/2

"
48"
30"
450
800, 50
__
2,150
Wire
Adjustable
__
16
NSF/ANSI 2

Unassembled
000000
00000000
__
000000
00
F
34

1/2

"
60"
30"
550
600, 50
__
1,850
Wire
Adjustable
__
16
NSF/ANSI 2

Unassembled
000000
00000000
__
000000
00

Mobile with Stainless Steel Top and Galvanized Steel Shelf

A
35"
48"
30"
400
195
__
575
Solid
Adjustable
30"
16
NSF/ANSI 2

Unassembled
0000000
000000
__
000000
00
A
35"
60"
30"
400
195
__
575
Solid
Adjustable
30"
16
NSF/ANSI 2

Unassembled
0000000
000000
__
000000
00
A
35"
72"
30"
400
195
__
575
Solid
Adjustable
30"
16
NSF/ANSI 2

Unassembled
0000000
000000
__
000000
00
A
35"
96"
30"
600
300
__
900
Solid
Adjustable
30"
16
NSF/ANSI 2

Unassembled
0000000
00000000
__
000000
00
C
35"
48"
30"
400
195
__
575
Solid
Adjustable
30"
16
NSF/ANSI 2

Unassembled
0000000
000000
__
000000
00
C
35"
60"
30"
400
195
__
575
Solid
Adjustable
30"
16
NSF/ANSI 2

Unassembled
0000000
000000
__
000000
00
C
35"
72"
30"
400
195
__
575
Solid
Adjustable
30"
16
NSF/ANSI 2

Unassembled
0000000
000000
__
000000
00
C
35"
96"
30"
600
300
__
900
Solid
Adjustable
30"
16
NSF/ANSI 2

Unassembled
0000000
00000000
__
000000
00

Mobile with Stainless Steel Top and Stainless Steel Shelf

B
29

1/4

"
24"
20"
200
200
__
400
Solid
Fixed
17"
18
__
Assembled
0000000
000000
__
000000
00
B
29

1/4

"
32"
24"
200
200
__
400
Solid
Fixed
21"
18
__
Assembled
0000000
000000
__
000000
00
B
34"
48"
30"
400
305
__
700
Solid
Fixed
27"
16
NSF/ANSI 2

Assembled
0000000
00000000
__
000000
00
B
34"
60"
30"
450
345
__
775
Solid
Fixed
27"
16
NSF/ANSI 2

Assembled
0000000
00000000
__
000000
00
B
34"
72"
30"
400
320
__
700
Solid
Fixed
27"
16
NSF/ANSI 2

Assembled
0000000
00000000
__
000000
00
B
36"
24"
24"
300
95
__
300
Solid
Fixed
21"
16
NSF/ANSI 2

Assembled
00000000
00000000
__
000000
00
B
36"
30"
24"
375
120
__
375
Solid
Fixed
21"
16
NSF/ANSI 2

Assembled
00000000
00000000
__
000000
00
B
36"
30"
30"
450
150
__
450
Solid
Fixed
29"
16
NSF/ANSI 2

Assembled
00000000
00000000
__
000000
00
B
36"
33

1/2

"
18

1/2

"
150
150
__
300
Solid
Fixed
15

1/4

"
18
__
Assembled
0000000
000000
4
0000000
0000000
B
36"
36"
30"
550
180
__
550
Solid
Fixed
29"
16
NSF/ANSI 2

Assembled
00000000
00000000
__
000000
00
B
36"
36

1/2

"
20

1/2

"
150
150
__
300
Solid
Fixed
17

1/4

"
18
__
Assembled
0000000
000000
4
0000000
000000
B
36"
48"
30"
550
180
__
600
Solid
Adjustable
27"
16
NSF/ANSI 2

Unassembled
0000000
000000
4
0000000
000000
B
36"
48

1/2

"
24

1/2

"
150
150
__
300
Solid
Fixed
21

1/4

"
18
__
Assembled
0000000
000000
4
0000000
000000
B
36"
60"
30"
650
180
__
650
Solid
Adjustable
27"
16
NSF/ANSI 2

Unassembled
0000000
000000
4
0000000
000000
B
36"
72"
30"
675
180
__
675
Solid
Adjustable
27"
16
NSF/ANSI 2

Unassembled
0000000
00000000
4
0000000
000000
D
34"
48"
30"
400
305
25
700
Solid
Fixed
27"
16
NSF/ANSI 2

Assembled
0000000
00000000
__
000000
00
D
34"
60"
30"
450
345
25
775
Solid
Fixed
27"
16
NSF/ANSI 2

Assembled
0000000
00000000
__
000000
00
D
34"
72"
30"
400
320
25
700
Solid
Fixed
27"
16
NSF/ANSI 2

Assembled
0000000
00000000
__
000000
00