Stainless Steel Tabletop Drawer Cabinets
Store tools or other small items in these cabinets that won't rust in wet environments. Gas struts hold the cabinet lid open for easy access to contents, while a keyed lock keeps the contents secure.
These cabinets can be used individually or stacked on top of a 41" or 54" wide stainless steel bench-height cabinet for added storage space and mobility. When stacking, do not exceed the overall capacity of the bench-height cabinet.
For technical drawings and 3-D models, click on a part number.
Stainless Steel Tabletop Drawer Cabinets—Assembled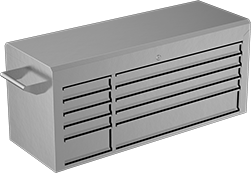 Tabletop Drawer Cabinet
Total

No.


of Drawers

No.


of

Ht.

Wd.

Dp.

Cap.,




lbs.

Ht.

Wd.

Dp.

Cap.,




lbs.

Color
Lock
Type
For Use
Outdoors
Each
10
4
4
1
1
2 3/16"
2 3/16"
5 1/8"
5 1/8"
11 11/16"
23 5/8"
11 11/16"
23 5/8"
18"
18"
18"
18"
100
100
100
100
23

5/8

"
41"
20"
1,200
Gray
Keyed
No
0000000
000000000
10
4
4
1
1
2 3/16"
2 3/16"
5 1/8"
5 1/8"
11 11/16"
35 5/8"
11 11/16"
35 5/8"
18"
18"
18"
18"
100
100
100
100
23

5/8

"
54"
20"
1,200
Gray
Keyed
No
0000000
00000000
Stainless Steel Bench-Height Cabinets—Assembled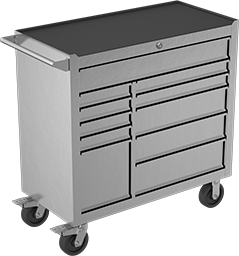 11 Drawer
Bench-Height
Cabinet
Replacement
Swivel
Casters with Brake

Total


No.

of
Drawers

No.


of

Ht.

Wd.

Dp.

Cap.,




lbs.

Ht.

Wd.

Dp.

Cap.,




lbs.

Color
Lock
Type
Each
Each
Each
11
4
2
1
2
1
1
2 3/16"
2 3/16"
4 1/16"
5 1/8"
6 5/16"
12 3/16"
11 11/16"
23 5/8"
36 11/16"
23 5/8"
23 5/8"
11 11/16"
18"
18"
18"
18"
18"
18"
100
100
200
100
100
200
42

1/2

"
41"
20"
3,600
Gray
Keyed
0000000
000000000
0000000
000000
0000000
0000000
11
4
2
1
2
1
1
2 3/16"
2 3/16"
4 1/16"
5 1/8"
6 5/16"
12 3/16"
11 11/16"
35 5/8"
49 11/16"
35 5/8"
35 5/8"
22 11/16"
18"
18"
18"
18"
18"
18"
100
100
200
100
100
200
42

1/2

"
54"
20"
3,600
Gray
Keyed
0000000
00000000
0000000
00000
0000000
000000