Stand-Up-Height

Workstations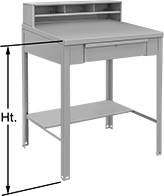 A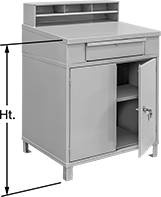 B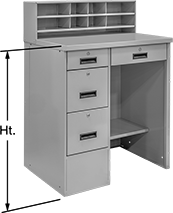 C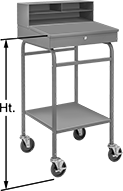 D
The work surface is positioned at a comfortable height for writing and working while standing. All doors, drawers, and compartments have a keyed lock.
Stainless steel workstations resist corrosion and are often used in laboratories and food-processing plants.
Style C have file drawers to accommodate hanging files.
Style D have a top that lifts for access to a storage compartment.
Style

Wd.

Dp.

Ht.

Ht.

Style

Dp.

Top


Cap.,




lbs.

Type


(No. of)

Dp.

Cap.,


lbs

Wd.

Dp.

Ht.

No.


of

Wd.

Dp.

Ht.

Assembled
or
Unassembled
Each

Stationary

Gray Painted Steel

A
34

1/2

"
30"
53"
42

3/4

"
Sloped
21"
250
Fixed (1)
15"
75
__
__
__
1
25"
22"
3

1/2

"
Unassembled
0000000
0000000
B
34

1/2

"
30"
53"
42

3/4

"
Sloped
24

1/4

"
250
Adjustable (1)
27

1/2

"
150
34

1/2

"
30"
28"
1
25"
22"
3

1/2

"
Unassembled
0000000
000000
C
39"
29"
55

1/2

"
43

3/4

"
Flat
19

3/4

"
200
Fixed (1)
16

1/2

"
75
__
__
__
1
1
2
13"
20"
13"
20"
23"
20"
5

1/2

"
5

1/2

"
12"
Assembled
00000000
00000000

Mobile

D
24"
22"
49"
42"
Sloped
13

1/2

"
25
Fixed (1)
20"
100
__
__
__
__
__
__
__
Assembled
00000000
000000

Stainless Steel

D
24"
22"
49"
42"
Sloped
13

1/2

"
25
Fixed (1)
20"
125
__
__
__
__
__
__
__
Assembled
00000000
00000000
| | | | |
| --- | --- | --- | --- |
| Replacement Lock Bar Guides Inserts for Style B | 00000000 | Pair | 00000 |