Steel Tables with Shelves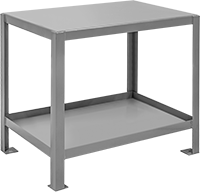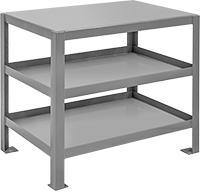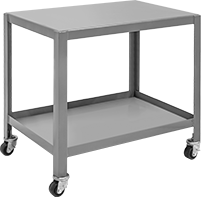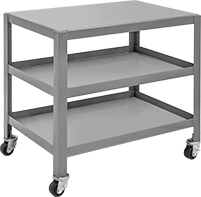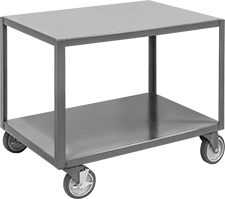 C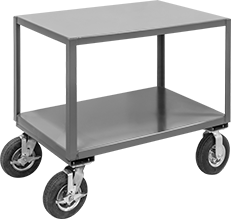 D
A lower shelf provides additional storage space. The durable steel top won't warp or splinter. Use these tables as a work surface for machines and equipment.
30" and 32" high tables are standard table height. 34" and 36" high tables are the same height as most workbenches, making them a comfortable height for most standing tasks.
Styles C and D have large diameter wheels to easily roll over cracks, extension cords, drains, and other obstacles.
Style

Ht.

Wd.

Dp.

Shelf
Overall
Type

Dp.

Material
Color
Gauge
Mounting
Fasteners
Included

No.


of

Dia.

Assembled
or
Unassembled
Each

Stationary

A
32"
36"
18"
1,000
2,000
Fixed
18"
Painted Steel
Gray
12
No
4

9/16

"
Assembled
0000000
0000000
A
32"
36"
24"
1,000
2,000
Fixed
24"
Painted Steel
Gray
12
No
4

9/16

"
Assembled
0000000
000000
A
32"
48"
24"
1,000
2,000
Fixed
24"
Painted Steel
Gray
12
No
4

9/16

"
Assembled
0000000
000000
A
32"
60"
24"
1,000
2,000
Fixed
24"
Painted Steel
Gray
12
No
4

9/16

"
Assembled
0000000
000000
B
32"
36"
18"
665
2,000
Fixed
17"
Painted Steel
Gray
12
No
4

9/16

"
Assembled
0000000
000000
B
32"
36"
24"
665
2,000
Fixed
23"
Painted Steel
Gray
12
No
4

9/16

"
Assembled
0000000
000000

Mobile

A
32"
36"
18"
1,000
2,000
Fixed
18"
Painted Steel
Gray
12
__
__
__
Assembled
0000000
000000
A
32"
36"
24"
1,000
2,000
Fixed
24"
Painted Steel
Gray
12
__
__
__
Assembled
0000000
000000
A
32"
48"
24"
1,000
2,000
Fixed
24"
Painted Steel
Gray
12
__
__
__
Assembled
0000000
000000
A
32"
60"
24"
1,000
2,000
Fixed
24"
Painted Steel
Gray
12
__
__
__
Assembled
0000000
000000
A
36"
48"
34"
1,300
2,600
Fixed
34"
Painted Steel
Gray
12
__
__
__
Assembled
0000000
000000
A
36"
72"
34"
1,300
2,600
Fixed
34"
Painted Steel
Gray
12
__
__
__
Assembled
0000000
00000000
B
32"
36"
18"
665
2,000
Fixed
17"
Painted Steel
Gray
12
__
__
__
Assembled
0000000
000000
B
32"
36"
24"
665
2,000
Fixed
23"
Painted Steel
Gray
12
__
__
__
Assembled
0000000
000000
C
30"
36"
24"
600
1,200
Fixed
24"
Powder-Coated Steel
Gray
12
__
__
__
Assembled
0000000
000000
C
30"
48"
24"
600
1,200
Fixed
24"
Powder-Coated Steel
Gray
12
__
__
__
Assembled
0000000
000000
C
30"
60"
30"
600
1,200
Fixed
30"
Powder-Coated Steel
Gray
12
__
__
__
Assembled
0000000
000000
C
30"
72"
36"
600
1,200
Fixed
36"
Powder-Coated Steel
Gray
12
__
__
__
Assembled
0000000
00000000
C
34"
72"
30"
1,000
1,000
Fixed
30"
Powder-Coated Steel
Gray
12
__
__
__
Assembled
0000000
000000
D
34"
36"
24"
600
1,200
Fixed
24"
Powder-Coated Steel
Gray
12
__
__
__
Assembled
0000000
000000
D
34"
48"
24"
600
1,200
Fixed
24"
Powder-Coated Steel
Gray
12
__
__
__
Assembled
0000000
000000
D
34"
60"
30"
600
1,200
Fixed
30"
Powder-Coated Steel
Gray
12
__
__
__
Assembled
0000000
00000000
D
34"
72"
36"
600
1,200
Fixed
36"
Powder-Coated Steel
Gray
12
__
__
__
Assembled
0000000
00000000