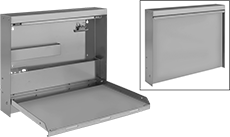 A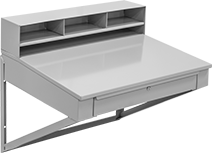 B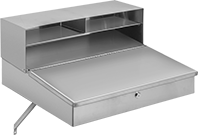 C

Beige

Gray

White
Stainless steel workstations are often used in corrosive environments.
Style A can be folded up. They have a spring clip for holding papers and built-in pockets for storing forms, cards, and pencils.
Style B have a locking drawer for storage.
Style C have a locking top that lifts for access to a storage compartment.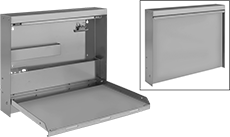 A

Beige

Gray

White
Wd.

Dp.

Ht.

Style

Dp.

Top


Cap.,




lbs.

Projection
When
Folded
Side
Stop


Ht.

No.


of

Dia.

Mtg.


Fasteners
Included
Assembled
or
Unassembled
Choose
a
Color
Each
20"
15

1/4

"
16

3/8

"
Flat
13

1/2

"
50
3

3/8

"
1"
2

3/16

"
Yes
Assembled
0000000
0000000

Stainless Steel

20"
15

1/4

"
16

3/8

"
Flat
13

1/2

"
50
3

3/8

"
1"
2

3/16

"
Yes
Assembled
__
0000000
000000
Style B—with Keyed Drawer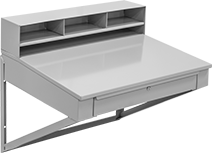 B

Gray
Wd.

Dp.

Ht.

Style

Dp.

Top


Cap.,




lbs.

Dp.

Wd.

Ht.

Cap.,




lbs.

No.


of

Dia.

Mtg.


Fasteners
Included
Assembled
or
Unassembled
Color
Each
34

1/2

"
30"
32"
Sloped
22"
200
28"
24"
3

1/2

"
100
4

7/16

"
Yes
Assembled
Gray
0000000
0000000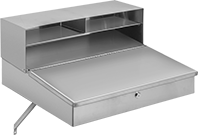 C

Gray
Wd.

Dp.

Ht.

Style

Dp.

Top


Cap.,




lbs.

No.


of
Location
Included

Mtg.

Hole
Dia


(No. of)

Mtg.


Fasteners
Included
Assembled
or
Unassembled
Color
Each
24

1/2

"
27

1/4

"
11

7/8

"
Sloped
13

1/2

"
100
1
Top Compartment
Yes

1/4

" (6)
No
Assembled
Gray
0000000
0000000

Stainless Steel

24

1/2

"
27

1/4

"
11

7/8

"
Sloped
13

1/2

"
150
1
Top Compartment
Yes

1/4

" (6)
No
Assembled
__
0000000
000000