Multi-Directional

Traffic Control Signs






Communicate two- or four-way stops with one freestanding stop sign. Two signs interlock and attach to the post so the message is viewable from all sides. For two-sided viewing, use one sign.
Hand-Held

Traffic Control Signs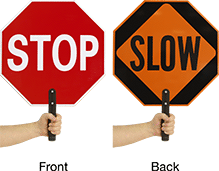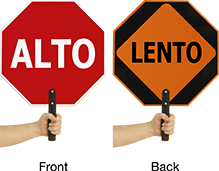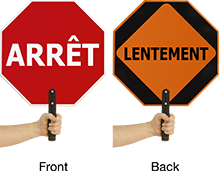 Guide pedestrians and vehicle traffic. These signs have a message on both sides. They are reflective for increased visibility in low-light conditions.
For technical drawings and 3-D models, click on a part number.
Ht.

Wd.

Thick.

Handle


Lg.

Material
Handle
Material
Each

English

18"
18"
0.125"
9"
Aluminum
Plastic
0000000
000000
18"
18"
0.125"
9"
Aluminum
Plastic
0000000
00000

Spanish

18"
18"
0.125"
9"
Aluminum
Plastic
0000000
00000

Alto

(Front)/Lento

(Back)

18"
18"
0.125"
9"
Aluminum
Plastic
0000000
00000

French

Arret

(Front)/Arret

(Back)

18"
18"
0.125"
9"
Aluminum
Plastic
0000000
00000

Arret

(Front)/Lentement

(Back)

18"
18"
0.125"
9"
Aluminum
Plastic
0000000
00000