How to

Identify and Measure Fittings
Pipe size is an industry designation, not the actual size. View information about how to measure threaded and unthreaded pipe and pipe fittings.
30° Flared

Fittings for Steel Tubing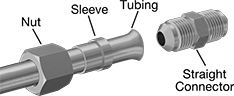 For Use

With:

Air,

Cutting

Oil,

Diesel

Fuel,

Fuel

Oil,

Gasoline,

Hydraulic

Fluid,

Mineral

Oil,

Water
Specifications

Met:

See table

Tubing:

Use with steel
Also known as JIS (Japanese Industrial Standard) fittings, these have a 30° flare on one or both ends. Fittings are zinc-plated steel for fair corrosion resistance.
UN/UNF (SAE Straight) male threads have a gasket to protect against leaks. They are also known as O-ring boss threads.
For technical drawings and 3-D models, click on a part number.