Opening Pattern

Opening Pattern
Panel Construction

Panel Construction
RoHS (Restriction of Hazardous Substances)

RoHS

(Restriction

of
Hazardous

Substances)
DFARS (Defense Acquisition Regulations Supplement)

DFARS

(Defense

Acquisition

Regulations

Supplement)
Metal Panels
Close off openings in structures while allowing air to pass through.
For technical drawings and 3-D models, click on a part number.
Expanded Panels—Flattened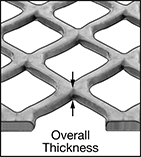 Expanded panels are more rigid than perforated panels and are for use when structural stability is important. They can be formed and welded; however, they are more difficult to cut than perforated panels. Flattened panels begin as raised panels, then they're rolled to a smooth and flat finish. Use them to create protective enclosures, shelving, grilles, and baskets.
316 stainless steel has excellent resistance to chemicals and salt water.