Spanner Sockets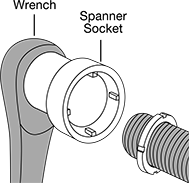 Spanner Socket in Use
(Wrench Not Included)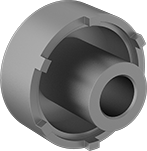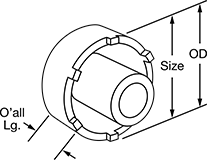 For easy tightening and loosening, these sockets have pins that grip the slotted sides on bearing nuts. These sockets require less clearance around bearings than standard hook spanner wrenches, so they're good in tight spaces. Use them with a square-drive wrench handle or a ratchet wrench; they're not for use with impact wrenches.
6-pin and 9-pin sockets are sized for wheel bearing locknuts on trucks.
For technical drawings and 3-D models, click on a part number.
Wheel Bearing Locknut Socket Sets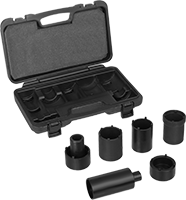 Plastic Case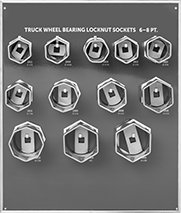 Display Rack



Shaped and sized for compatibility with wheel bearing locknuts on trucks and trailers, the sockets in these sets make it easy to install and remove locknuts. They ensure the proper torque setting when you reinstall a locknut on your wheel, so you know it's safe and secure. These are square drive sockets for use with hand-driven tools, not impact wrenches. Made of steel, they grip locknuts tightly and prevent rounding.
4-pin and 6-pin sockets fit around retaining locknuts with slots or holes in the side. Also known as spanner sockets, they're similar to tri-groove sockets but have four or six pins instead of three.
Spindle puller adapters remove the front spindle on four-wheel drive trucks so you can access the needle bearing when lubricating and aligning the front wheels.
8-point sockets fit 8-point nuts and square nuts.
Carry sets with a plastic case from one location to the next.
Choose sets with a display rack to keep sockets contained and organized in a single location. The display rack mounts to walls and is labeled by socket size.
Number
of
Pieces
Components
Included
Includes
Container
Type
Each

1/2"

Square

Drive—

Chrome-Plated

Steel

6
5 Sockets
1 Adapter
4-Pin: 2", 2

1/4

", 2

3/4

"
6-Pin: 2

1/4

"
Spindle Puller Adapter
Plastic Case
000000000
0000000
18
18 Sockets
6-Pin: 2

5/8

", 2

7/8

", 3

5/8

"
8-Point: 2

3/8

", 2

3/4

", 2

9/16

", 2

7/8

", 3", 3

1/8

", 3

1/4

", 3

3/8

", 3

1/2

", 3

3/4

", 3

13/16

", 3

7/8

", 4

3/8

", 4

1/2

", 4

7/8

"
Display Rack
000000000
000000