How to

Identify and Measure Fittings
Pipe size is an industry designation, not the actual size. View information about how to measure threaded and unthreaded pipe and pipe fittings.
Threaded Hose Fittings for Hydraulic Fluid
Fittings are threaded on both ends so you can connect them directly to a threaded hose or to pumps, cylinders, and other equipment in your hydraulic system.
Zinc-plated steel fittings are stronger and more durable than stainless steel fittings. They have fair corrosion resistance. Fittings that swivel until tightened rotate for easy installation.
Fittings with a 37° flared end are also known as JIC (Joint Industrial Council) fittings.
BSPP threads have a gasket or a 60° internal flare to protect against leaks.
For technical drawings and 3-D models, click on a part number.
Gas Chimney

Vents and Fittings
For use with gas-fired equipment, such as boilers and furnaces, these vent pipes and fittings withstand temperatures up to 400° F. Also known as type B gas vents.
To join pipes and connectors, insert a male end into a female end and secure with the included locking band.
Adjustable-Angle Connectors, 60° Elbow to Straight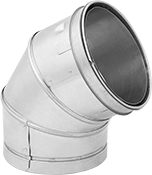 Adjustable-angle elbow connectors can be used at an angle or straight.