L Series

Timing Belts with Teeth on Both Sides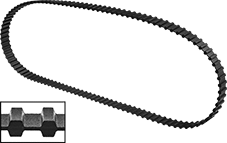 Use a single belt to drive three or more pulleys in reversing and serpentine drive systems. These belts have teeth on both sides to transmit power from either side and rotate pulleys in opposite directions. Belts are neoprene with fiberglass reinforcement for quiet operation with high strength. They are L series (light) and have trapezoidal teeth. The teeth are nylon coated to protect the wear surface and minimize friction.
For technical drawings and 3-D models, click on a part number.