How to

Identify and Measure Fittings
Pipe size is an industry designation, not the actual size. View information about how to measure threaded and unthreaded pipe and pipe fittings.
Drain,

Waste,

and Vent ABS Pipe Fittings for Chemicals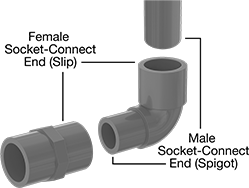 For Use

With:

Sodium Hydroxide

Max.

Temperature:

180° F

Specifications

Met:

ASTM

D2661,

ASTM

D3311,

ASTM

D3965,

ASTM F1498

Pipe Nipples and

Pipe:

Use Schedule 40 ABS Plastic

Flanges:

Use Schedule 40 ABS Plastic
These Schedule 40 fittings are an economical option for gravity-flow chemical waste systems. They are ABS plastic, which has excellent strength and impact resistance and good chemical resistance. Fittings meet ASTM D2661, ASTM D3311, ASTM D3965, and ASTM F1498 specifications and testing requirements for material quality and product dimensions.
Warning: Never use plastic pipe fittings and pipe with compressed air or gas.
Sealants cannot be sold to Colorado, Connecticut, District of Columbia, Delaware, Illinois, Indiana, Massachusetts, Maryland, Maine, Michigan, New Hampshire, New Jersey, Northern Virginia, New York, Ohio, Pennsylvania, Rhode Island, or Utah due to local VOC (Volatile Organic Compounds) regulations.
For technical drawings and 3-D models, click on a part number.
Plugs with External Square Drive, Male Threaded Pipe

To prevent leaks in threaded connections, apply a non-hardening, plastic-compatible sealant. Tape or sealants with PTFE are not recommended for plastic-to-plastic threaded connections. When making a threaded connection be careful not to overtighten the threads. To prevent cracks and leaks, finger tighten the fitting, then wrench-tighten one to two turns.
Quick-Disconnect

Garden Hose Couplings
Use these couplings if you need frequent access to a garden hose line—a complete coupling consists of a plug and a socket that connect and disconnect quickly. The compact design makes these couplings sleeker and easier to handle than cam-and-groove garden hose couplings. Couplings have a sleeve-lock socket. Connect by sliding back the sleeve on the socket, inserting the plug, and releasing the sleeve. To disconnect, slide the sleeve back and pull out the plug.
ABS plastic couplings offer comparable corrosion resistance to 303 stainless steel couplings, but are lighter in weight.
For technical drawings and 3-D models, click on a part number.

Straight
Plug,
Female Thread
Garden Hose
Trade Size
Thread
Type
Connection Style

Lg.

Each

ABS Plastic

3/4

GHT

Quick-Disconnect Male × Threaded Female
1"
00000000
00000
Push-In

Rectangular Plugs

Push these plugs into an opening and friction holds them in place.
ABS plugs have excellent impact resistance.
For technical drawings and 3-D models, click on a part number.
Cleanout Plugs

Recessed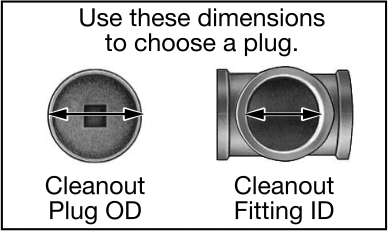 Close off your drain cleanout pipe with these threaded plugs. Note: If you do not know your pipe size, measure the OD of your existing cleanout plug or the ID of your cleanout fitting and match to the value listed.
For technical drawings and 3-D models, click on a part number.
| | | | |
| --- | --- | --- | --- |
| Driver for Recessed Plugs | 000000 | Each | 000000 |