About Safety Ratings for Electrical Testing
Current-Sensing

Test Leads
Measure current without interrupting the circuit by connecting these test leads to a multimeter or current meter.
The connection end is a 4 mm banana plug, which is the standard for connecting to a multimeter or current meter.
These test leads step down the sensed current to a level that works with a multimeter or current meter—the signal reduction ratio is the factor by which they reduce current.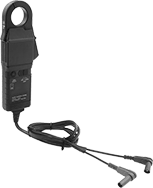 Current
Clamp—
AC and DC Current
Test
End
For

Max.


Cord


Dia.

Connection
End
AC


Current,


A
DC


Current,


A
Current
Accuracy
Signal
Reduction
Ratio
For
Current


Range,

A
AC
Voltage
Safety
Rating
Frequency
Range
Jaw
Opening
Cord


Lg.

Batteries
Required
Batteries
Included
Each

Measures AC Current and DC Current

Current Clamp
1.22"
Sheathed Banana Plug
0-1,000
0-1,000
1%
1 mV/A, 1 mV/A
0-200, 0-1,000
300
CAT III, 300V
0 Hz-10 kHz
1.25"
59"
Yes
Yes
00000000
0000000
Line Splitters for
Clamp-On

Multimeters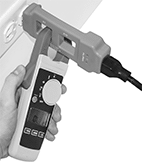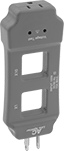 Determine how much current a device with a two- or three-wire power cord uses without pulling apart the wires. The splitter isolates hot and neutral wires so you can measure AC current in either wire with a clamp-on multimeter.
Max.

AC


Current,

A
For

No.


of Wires
Safety Rating
Specifications Met
Each
15
2, 3
CAT II, 600V
UL Listed, C-UL Listed

0000000
000000