About Plastic Hammer Faces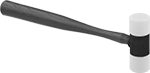 Screw In with Plain Grip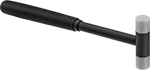 Screw In with Smooth Grip
Replace faces when they become worn rather than replacing the entire tool. These mallets are suitable for driving chisels and striking work without damaging its surface. Choose a mallet with a face that's softer than your workpiece to avoid marring it when tapping or striking. Lighter weight mallets are good for tapping work into place and driving a chisel to make small cuts. Use heavier weight mallets when assembling joints, dislodging stuck parts, and making aggressive cuts with a chisel. Longer mallets allow for more powerful swings.
Mallets with two face materials can be used for a wider range of applications than other mallets.
Rubber and plastic faces are softer than metal faces, so they're good for striking plastic, wood, and sheet metal. All have a face hardness rating for comparing their hardness with other rubber and plastic faces. Extra-hard faces have a hardness similar to that of a hard hat. Brass faces are harder than copper and suitable for striking steel, iron, stone, and other hard surfaces.
Acetal plastic handles are lightweight.
Screw-In Polyethylene Plastic Face
Head


Wt.

Face


Dia.

Face Hardness
Rating

(Face Color)

Size

Type
Overall


Lg.

Head
Material
Handle
Replaceable
Each
Each

Acetal Plastic Handle with Smooth Grip

2 oz.

5/8

"
Extra Hard (Yellow)

1/4

"-20

UNC

8

1/4

"
Steel
Nonreplaceable
0000000
000000
0000000
00000
4 oz.

7/8

"
Extra Hard (Yellow)

5/16

"-18

UNC

9

1/4

"
Steel
Nonreplaceable
0000000
00000
0000000
0000
Screw-In Acetal Plastic × Brass Faces