Grounding Rod Clamps
Connect bare-copper ground wire to grounding rods.
Dual nut clamps give you more flexibility than single nut clamps.
U-bolt clamps are the most adjustable and work with rods ranging in size from 3/8" to 1".
Clamps with a floating pressure bar distribute pressure evenly over a large area, which creates more contact area for grounding.
Two-piece design clamps are easier to install onto bends and continuous loops than other single- and dual-nut clamps.
For clamps with lay-in wire, there's no need to thread wire through them. Simply lay the wire into the clamp's opening and fasten.
UL 467 clamps meet a standard for direct burial.
For technical drawings and 3-D models, click on a part number.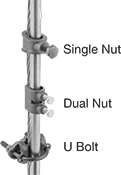 Single Nut with Floating Pressure Bar

Single Nut with
Two-Piece
Design

Dual Nut with
Two-Piece
Design and
Lay-In
Wire
For Rod


Dia.




(For Wire Gauge)

Material
Features
Specifications
Met
Each

Single Nut

1/2

" (10, 9, 8, 7, 6, 5, 4, 3, 2)
Copper Alloy
__
UL 467
0000000
00000

1/2

" (8, 7, 6, 5, 4, 3, 2)
Copper Alloy
Floating Pressure Bar
__
0000000
00000

1/2

" (6, 5, 4, 3, 2, 1, 1/0, 10, 8, 7, 9)

5/8

" (6, 5, 4, 3, 2, 1, 1/0, 10, 8, 7, 9)

3/4

" (2, 1, 1/0, 3, 4, 5, 6, 7, 8)

Bronze

__
UL 467
0000000
0000

1/2

" (6, 4)
Bronze

Two-Piece Design
__
0000000
00000

5/8

" (8, 7, 6, 5, 4, 3, 2)
Copper Alloy
Floating Pressure Bar
__
0000000
00000

5/8

" (8, 7, 6, 5, 4, 3, 2, 1, 1/0)
Copper Alloy
__
UL 467
0000000
0000

3/4

" (8, 7, 6, 5, 4, 3, 2, 1, 1/0)
Copper Alloy
__
UL 467
0000000
0000

3/4

" (8, 7, 6, 5, 4, 3, 2, 1, 1/0, 2/0, 3/0, 4/0)
Copper Alloy
Floating Pressure Bar
__
0000000
000000
1" (8, 7, 6, 5, 4, 3, 2, 1, 1/0, 2/0, 3/0, 4/0)
Copper Alloy
__
UL 467
0000000
00000

Dual Nut

1/4

"-1" (10, 9, 8, 7, 6, 5, 4, 3, 2)
Bronze

Lay-In Wire, Two-Piece Design
__
0000000
00000

1/2

" (6, 5, 4, 3, 2, 1, 1/0, 2/0, 3/0, 4/0, 250 MCM, 300 MCM, 350 MCM)

5/8

" (6, 5, 4, 3, 2, 1, 1/0, 2/0, 3/0, 4/0, 250 MCM, 300 MCM, 350 MCM)

3/4

" (2, 1, 1/0, 2/0, 3/0, 4/0, 250 MCM)

Bronze

__
UL 467
0000000
00000

3/8

"-1" (6, 5, 4, 3, 2, 1, 1/0, 2/0, 3/0, 4/0, 250 MCM, 300 MCM, 350 MCM, 400 MCM, 500 MCM)
Bronze

__
UL 467
0000000
00000