Text Telephone Adapters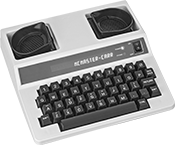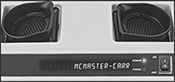 Phone
Holder/Receiver
and LED Display
Make it easier for people who are deaf, hard of hearing, or speech-impaired to use phones to communicate, by letting them send and receive typed messages. Also known as TTY, TDD, and teletypewriters, these text telephone adapters can be used to contact others, even if they don't have an adapter. To converse with someone who is not using an adapter, first call the U.S. National Relay Service. They'll read your message to those who only have a phone and then type their message back to you.
Unlike other text telephone adapters, these don't need to be plugged into a direct phone line. They run on AC power or rechargeable batteries, so you can move them wherever they're needed. Their phone holder/receiver is sized to accommodate a variety of phone handsets, including those found on our standard, cordless, outdoor, and hazardous location phones. They are not, however, compatible with mobile phones.
Height
Width
Depth
Material
Color
Digital
Display
Type
Specifications
Met
Features
Includes
Each
2

1/2

"
10"
10"
Plastic
White/Black
LED
ADA Compliant, UL Listed
3.5 mm Auxiliary Port, On/Off Switch, Signal Light
AC Adapter
0000000
0000000
Call Boxes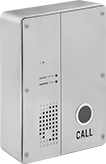 Initiate and receive calls using a standard phone line. Press the button to automatically dial a programmed number. If the first number is busy, the call box dials a second number. For increased security, the faceplate is fastened with tamper-resistant screws.
Message

Ht.

Wd.

Dp.

Material
Environment
Environmental
Rating
Specifications
Met
Features
Color
Message
Color
Each
Call
11

7/8

"
8

7/8

"
3

3/8

"
Stainless Steel
Washdown
IP66

ADA Compliant, ETL Listed, C-ETL Listed
Auxiliary Inputs/Outputs, Braille, Dedicated Phone Number, Tamper-Resistant Screws, Two-Number Speed Dial Memory
__
Black
0000000
0000000
Emergency
11

7/8

"
8

7/8

"
3

3/8

"
Stainless Steel
Washdown
IP66

ADA Compliant, ETL Listed, C-ETL Listed
Auxiliary Inputs/Outputs, Braille, Dedicated Phone Number, Tamper-Resistant Screws, Two-Number Speed Dial Memory
Yellow
Red
0000000
000000