About Structural Adhesives
Adhesive Accelerators for
Instant-Bond

Adhesives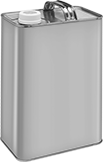 Shorten the time it takes instant-bond adhesives to reach full strength. Apply these accelerators before bonding with instant-bond adhesives for strength, or after bonding to keep adhesive from turning cloudy.
Bottles of Scotch-Weld 87937, 712, 7109, and 7113 include both a brush and spray head for easy dispensing.
Scotch-Weld 87937 also works as a primer on porous materials.
7109 is nonflammable.
7113 helps bond coils to ferrite cores in electromagnets.
QFS16 does not contain ODCs (ozone-depleting chemicals). It can be used on porous materials.
Accelerators that cannot be sold to the regions listed exceed local regulatory limits on VOC (volatile organic compounds).
Mfr.


Model


No.

Size
Net
Weight
Type
Consistency

Viscosity,


cP
Color
Specifications
Met
Cannot
Be
Sold To
Each

3M

Scotch-Weld

Accelerators

87937
2 fl. oz.
__
Brush-Top Bottle, Spray Bottle
Thin Liquid
10
Amber
__
__
00000000
000000

Loctite® Accelerators

712
__
0.7 oz.
Aerosol Can
Thin Liquid
1
White
__
__
0000000
00000
712
1

3/4

fl. oz.
__
Brush-Top Bottle, Spray Bottle
Thin Liquid
1
White
__
__
0000000
00000
712
1 gal.
__
Can
Thin Liquid
1
White
__
__
0000000
000000
713
1

3/4

fl. oz.
__
Spray Bottle
Thin Liquid
1
Amber
ISO 10993, MIL-A-46050
__
0000000
00000
7109
1

3/4

fl. oz.
__
Brush-Top Bottle, Spray Bottle
Thin Liquid
Not Rated
Amber
__
__
00000000
00000
7113
1

3/4

fl. oz.
__
Brush-Top Bottle, Spray Bottle
Thin Liquid
0.4
White
__
Los Angeles County, CA; Orange County, CA; Riverside County, CA; San Bernardino County, CA
0000000
00000
7452
__
0.7 oz.
Aerosol Can
Thin Liquid
0.4
Amber
__
__
0000000
00000
7452
1

3/4

fl. oz.
__
Brush-Top Bottle
Thin Liquid
0.4
Amber
__
__
0000000
00000
7452
1

3/4

fl. oz.
__
Spray Bottle
Thin Liquid
0.4
Amber
__
__
0000000
00000
7452
32 fl. oz.
__
Can
Thin Liquid
0.4
Amber
__
__
0000000
00000
7452
1 gal.
__
Can
Thin Liquid
0.4
Amber
__
__
0000000
000000

Permabond Accelerators

QFS16
4 fl. oz.
__
Spray Bottle
Thin Liquid
0.4
Clear
__
__
0000000
00000