Aerosol Can Recycling Punches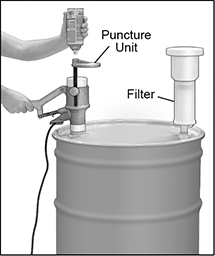 Turn any size aerosol can into nonhazardous, recyclable scrap metal with these drum-mounted systems. They safely puncture cans to relieve pressure and drain residual liquid into the drum. To use, thread the puncturing unit onto the 2" dia. opening of a drum (not included); then thread the filter with replaceable carbon cartridge onto a 3/4" opening in the drum. Insert the can and push the lever to puncture.
Components that cannot be sold to California are restricted by local disposal requirements.
Complete units come with a 6-ft. long antistatic wire with a ring terminal to ground the drum, as required by OSHA.
Gaskets are compatible with standard and California compliant complete units.
Component
For Drum


Capacity,




gal.

Ht.

Material
Features
Includes
Each
Complete Unit
30, 55
18"
Iron
Automatic Shut-Off Valve, Can Counter
Drum Lid, Grounding Kit, Safety Goggles, Under-Drum Pan
00000000
000000000
Filter with Carbon Cartridge
__
__
__
__
__
00000000
000000
Carbon Cartridge
__
__
__
__
__
00000000
000000
Gaskets for Complete Units