High-Capacity

Air-Glide

Dollies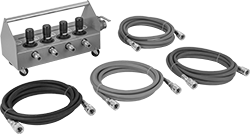 Included Air Regulator and Four Hoses with
Quick-Disconnect
Fittings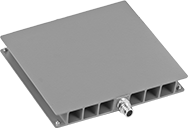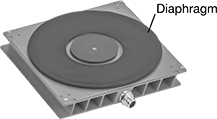 Bottom of Dolly
Also known as bearing movers, air casters, and air bearings, these dollies float loads on a cushion of air. They work well on large, unevenly distributed loads. As air escapes out of the air diaphragm located under the top platform, the load is lifted for easy, frictionless movement in any direction over smooth surfaces. The low lift height reduces the risk of injury to personnel and damage to other equipment.
Total
Per
Dolly
Number of
Dollies
Included

Lg.

Wd.

Ht.

Lg.

Wd.

Ht.

Max.


Lift
Full Load
Air
Consumption
Gender
Pipe
Size

Thread
Type
Includes
Each

Aluminum Top Plate and Neoprene Rubber Diaphragm

17,000
4,250
4
15

1/8

"
15

1/8

"
1

7/8

"
15

1/8

"
15

1/8

"
1

7/8

"

7/8

"
25 cfm @ 90 psi
Female

1/2

NPT

Air Regulator with On/Off Control, Four 20-ft. Long Hoses with Quick-Disconnect Fittings
0000000
000000000
| | | | |
| --- | --- | --- | --- |
| Replacement Dolly | 0000000 | Each | 000000000 |
Frictionless-Motion

Mounted Linear Air Bearings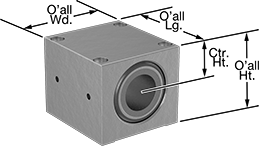 Bearing in Housing

Float bearings on air for precise, frictionless movement. Unlike traditional bearings that can wear your shaft down, these bearings are suspended using pressurized air for linear and rotary motion. Since there's no friction, they glide smoothly and silently without wearing over time. These are self-aligning bearings, so they compensate for some shaft misalignment. They must be connected to a compressed air system.
For technical drawings and 3-D models, click on a part number.
For
Shaft


Dia.

Lg.

Wd.

Ht.

Center


Ht.

Dynamic
Load

Cap.


@ Pressure
Static
Load


Cap.,

lbs.

Temp.




Range,




°F

No.


of
Thread
Size
Air Inlet
Thread
Size
Each

Self Aligning with

0.25°

Misalignment Capacity

Carbon-Lined

Anodized 6061 Aluminum Bearings with Anodized 6061 Aluminum

Housing—

For

Aluminum,

Stainless

Steel,

Steel Shafts

1/2

"
2

1/32

"
1

1/2

"
1

3/16

"

9/16

"
10 lbs. @ 60 psi
10
15° to 140°
4
M4 × 0.7
M5 × 0.8
0000000
0000000

3/4

"
2

1/32

"
1

7/8

"
1

21/32

"

13/16

"
30 lbs. @ 60 psi
30
15° to 140°
4
M5 × 0.8
M5 × 0.8
0000000
000000
1"
2

9/32

"
2

7/16

"
1

15/16

"

15/16

"
40 lbs. @ 60 psi
40
15° to 140°
4
M6 × 1
M5 × 0.8
0000000
000000
1

1/2

"
3

1/32

"
4

3/4

"
3

1/4

"
1

1/2

"
145 lbs. @ 60 psi
145
15° to 140°
4
M8 × 1.25
M5 × 0.8
0000000
000000