Analyze gases, test for leaks, and check the effects of high altitudes on electronic components with these chambers. They remove air and gases to create a space void of molecules.
Acrylic chambers are clear, so the material inside is visible from all angles. Acrylic releases air at a faster rate than steel, so these chambers cannot reach vacuum levels as high as those of stainless steel chambers.
Stainless steel chambers reach and maintain significantly higher vacuum levels than acrylic vacuum chambers, and they work at higher temperatures. They are more chemical resistant than acrylic chambers, making them appropriate for use with lab substances such as acetone and isopropyl alcohol.
Quick- and claw-clamp connections allow you to connect and disconnect components easily. The clamps join two flanged ends and a rubber O-ring. Quick-clamp connections are also known as ISO-KF; you'll need a ring and quick clamp to complete the connection. Claw-clamp connections are also known as ISO-K; they require a ring and multiple claw clamps to secure.
Flanged connections create a seal that is tighter than clamp connections. Also known as CF connections, the flanges have sharp edges that press into a copper gasket as you tighten the bolts. The tighter seal means chambers with flanged connections can reach a higher vacuum level than chambers with clamp connections. Choose flanged connections for applications that require ultra-high vacuum, such as surface analysis experiments.
Maximum vacuum is measured in torr. The lower the torr value, the higher the level of vacuum.
For technical drawings and 3-D models, click on a part number.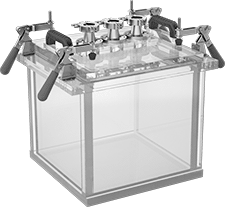 Acrylic
Max.


Vacuum
Style

No.


of
High Vacuum
Connection
Type
Trade
Number
Flange
OD
For
Tube
OD

Ht.

Wd.

Lg.

Ht.

Wd.

Lg.

Temp.




Range,




°F

Includes
Each
7.5 × 10 -2 torr @ 72° F
Quick Clamp
3
ISO-KF
25
1.57"
1"
12"
12"
12"
18"
15"
23"
-40° to 100°
Connection Clamps, Rings
0000000
000000000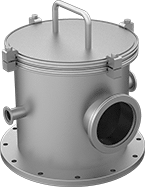 Stainless Steel with
Quick-
and
Claw-Clamp
Connections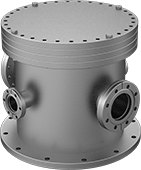 Stainless Steel with Flanged Connections
Max.


Vacuum
Style

No.


of
High Vacuum
Connection
Type

High-Vacuum


Flange
Size
Flange
OD
For
Tube
OD
Bolt Hole


Dia.




(No. of)

Bolt
Circle


Dia.

Dia.

Ht.

Dia.

Ht.

Temp.




Range,




°F

Each
1 × 10 -7 torr @ 72° F
Claw Clamp
Claw Clamp
Quick Clamp
Quick Clamp
4
ISO-KF
ISO-KF
ISO-K
ISO-K
25
40
63
100
1.57"
2.16"
3.74"
5.12"
1"
1

1/2

"
2

1/2

"
4"
__
__
9

3/4

"
9

3/8

"
13"
13.63"
-10° to 240°
0000000
000000000
1 × 10 -11 torr @ 72° F
Flanged
4
CF
16
40
63
100
1

21/64

"
2

3/4

"
4

1/2

"
6"

3/4

"
1

1/2

"
2

1/2

"
4"

11/64

" (6)


17/64

" (6)


21/64

" (8)


21/64

" (16)
1

1/16

"
2

5/16

"
3

5/8

"
5

1/8

"
9

3/4

"
9

1/2

"
13"
11.26"
-320° to 570°
0000000
00000000
Glove Boxes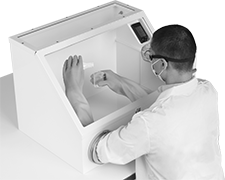 Shown with Steel Box with Latex Gloves
Safely handle hazardous and sensitive material in an enclosed space that keeps out air and moisture. These boxes have built-in gloves for protecting your hands and a viewing window for seeing your work. Position them on any flat work surface.
Use boxes with gas port fittings to exhaust the gas within and replace it with a different gas that works for your application.
Polyethylene boxes are lightweight, so they're easy to move around your facility. They have a side door for inserting material and equipment.
Steel boxes are durable and stand up to frequent use. To deposit material and equipment without letting in air and moisture, they have a side chamber with one interior and one exterior door. There's also a front door in case you need a bigger opening. Use the included humidity meter to make sure that sensitive material isn't exposed to too much moisture.
Polyethylene Plastic Box with Neoprene Rubber Gloves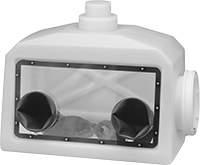 Polyethylene Box with Neoprene Gloves
Painted Steel Box with Latex Rubber Gloves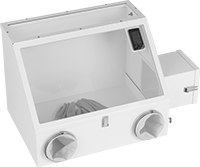 Steel Box with Latex Gloves
Ht.

Wd.

Dp.

Ht.

Wd.

Dp.

Opening


Ht.

Opening


Wd.

Opening


Ht.

Opening


Wd.

Size
Port


Dia.

Max.




Temp.,




°F

Includes
Features
Each
19

7/8

"
31

7/8

"
23

7/8

"
24"
32"
25"
20"
32"
8

1/4

"
8

3/8

"
10
6"
150°
Humidity Meter
Two

1/4

" ID Push-to-Connect Gas Port Fittings
0000000
000000000
Glove Box Mounting Clamps
Glove Bags
More flexible and portable than glove boxes, these glove bags are temporary enclosures that protect you while you work with hazardous or unknown material and isolate the material from outside air and moisture. They come with built-in gloves to shield your hands and prevent hand oils from getting inside. All have one or two zipper openings for depositing material and equipment. They collapse for storage and are sturdy enough to be used again, but replace them if they become contaminated.
Polyethylene bags have a tubing connector for inflating them with a gas supply. They come with polyethylene gloves, which resist ozone and many oxidizing chemicals. For extra protection, there are also cotton liner gloves.
PVC bags have a support frame for assembling them. To fill them with inert gas, use their barbed gas port fitting. They come with butyl gloves, which have excellent resistance to chemicals, vapors, and gases.
Polyethylene Plastic Bags with Polyethylene Plastic Gloves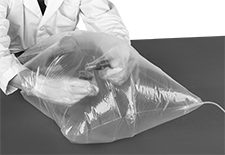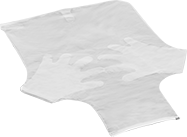 Polyethylene Bag with Polyethylene Gloves and One Opening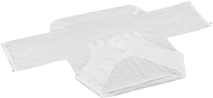 Polyethylene Bag with Polyethylene Gloves and Two Openings
Number
of
Openings
Opening
Width
Height
Width
Depth

Thickness,


mil
Glove
Size
Closure
Type
Maximum


Temperature,




°F

Includes
Each
1
10"
11"
17"
17"
3
9
Zipper
200°

3/8

" Tubing Connector, Cotton Liner Gloves
0000000
000000
1
10"
12"
20"
20"
3
9
Zipper
200°

3/8

" Tubing Connector, Cotton Liner Gloves
0000000
00000
1
10"
14"
30"
20"
3
9
Zipper
200°

3/8

" Tubing Connector, Cotton Liner Gloves
0000000
000000
1
18

3/4

"
12"
27"
17"
3
9
Zipper
200°

3/8

" Tubing Connector, Cotton Liner Gloves
0000000
00000
1
22

1/2

"
15"
27"
27"
3
9
Zipper
200°

3/8

" Tubing Connector, Cotton Liner Gloves
0000000
000000
1
33

1/2

"
18"
37"
27"
3
9
Zipper
200°

3/8

" Tubing Connector, Cotton Liner Gloves
0000000
000000
1
33

1/2

"
25"
37"
37"
3
9
Zipper
200°

3/8

" Tubing Connector, Cotton Liner Gloves
0000000
000000
2
10"
12"
20"
20"
3
9
Zipper
200°

3/8

" Tubing Connector, Cotton Liner Gloves
0000000
000000
2
10"
14"
30"
20"
3
9
Zipper
200°

3/8

" Tubing Connector, Cotton Liner Gloves
0000000
000000
PVC Plastic Bags with Butyl Rubber Gloves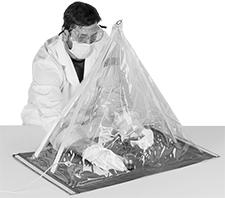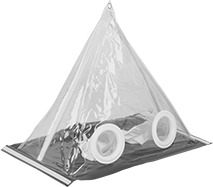 PVC Bag
with Butyl Gloves and One Opening
Number
of
Openings
Opening
Width
Height
Width
Depth

Thickness,


mil
Size
Port
Diameter
Closure
Type
Maximum


Temperature,




°F

Includes
Features
Each
1
23

5/8

"
28

1/2

"
33

7/8

"
22"
60
9

3/4

4

1/2

"
Zipper
110°
One 29" long piece of

5/16

" ID Tubing

5/16

" OD Barbed Gas Port Fitting
0000000
0000000