Short-Stroke

Clamping Air Cylinders
Also known as air clamps, these cylinders are used to apply force in holding applications. All are single acting with air-extend actuation—also known as push style, air extends the rod and cylinders have a spring that returns the rod to its original position.
For technical drawings and 3-D models, click on a part number.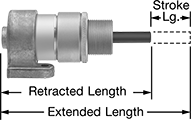 Horizontal Mount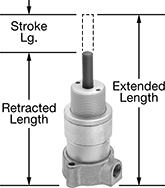 Vertical Mount

Blast away blockages in pipes up to 200 ft. away. Pressurize the cylinder, insert head into your drain, and pull the trigger. To pressurize, pump the handle or use an air compressor with a 1/4 NPT female connection.
Dia.

Material

Lg.

Material
For
Use
With

Lg.,




ft.

Material
Thread
Size
Thread
Type
Gender
Includes
Each
4"
Rubber
10"
Rubber
Showers/Tubs, Sinks, Toilets
__
__
__
__
__
Five Drain Adapters (1

1/4

", 1

1/2

", 2", 3", 4" Dia.)
0000000
0000000
4"
Rubber
10"
Rubber
Showers/Tubs, Sinks, Toilets
__
__
__
__
__
Five Drain Adapters (1

1/4

", 1

1/2

", 2", 3", 4" Dia.), Carrying Case
0000000
000000
4"
Rubber
22"
Rubber
Showers/Tubs, Sinks, Toilets
4
Rubber

3/4

"
GHT

Female
Five Drain Adapters (1

1/4

", 1

1/2

", 2", 3", 4" Dia.), Four Expansion Plugs (1

1/2

", 2", 3", 4" Dia.), 6" Dia. Rubber Cone, Toilet Attachment, Universal Faucet Adapter, Check Valve, Two Carrying Cases
0000000
000000
Gas-Powered

Drain Cleaners