Nonporous Alumina Ceramic Powder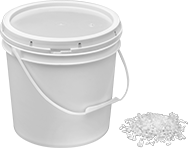 Color:

White
Temperature

Range:

0° F

to

3,630° F

Fabrication:

See table
Alumina ceramics withstand higher temperatures than any other ceramic and are highly chemical resistant. This powder is high purity, so it's inert even at high temperatures. Because alumina is ultra hard, it can be used in applications that require superior strength. It is also wear resistant, making it suitable for high-wear applications. Both thermally and electrically insulating, alumina can also be used in high-temperature and high-power electrical applications. Finished products made from alumina powder are nonporous, so they will seal out air and gas. Powder is often used in casting processes. Add it to slurries to create custom parts and tools such as crucibles, cutting tools, and laboratory ware. Alumina powder also is often used as a friction material, such as in brake linings.
Choose a particle size based on the application of your finished piece. Finer powders can be processed into finished pieces that will be harder, stronger, and more wear-resistant than those made with coarse grains. They may also have a finer finish. Parts made with coarse grain powders can be processed into pieces that are more porous and thermally shock-resistant than pieces made with finer grains. Mixing sizes can combine these properties.
99.3% aluminum oxide powder is slightly more reactive than 99.5% aluminum oxide powder because it's less pure. It's commonly used for polishing, lapping, and buffing.
99.5% aluminum oxide powder is more pure than 99.3% aluminum oxide, so it's less reactive. It's often used in the ceramic, glass, and foundry industries.

Certificates with a traceable lot number are available for these products. Download certificates from ORDER HISTORY after your order ships.