Use this versatile framing to configure machine guards, enclosures, carts, and workstations. These rails have continuous T-slots for attaching fittings. Rail profiles with slots on all sides offer the most design flexibility, while profiles with closed sides give a finished appearance. Rails are made of aluminum.
Double-, triple-, and quad-profile rails are good for large structural applications, such as beams and posts. They provide six to twelve open T-slots for connecting fittings.
Solid rails are stronger than hollow rails.
Hollow rails are lighter and more economical than solid rails.
Black rails fade into the background and hide dirt and grime.
Yellow rails draw attention and are often used to build machine guards.
Use touch-up paint (sold separately) to cover cut ends and scratches on anodized silver rails.
For technical drawings and 3-D models, click on a part number.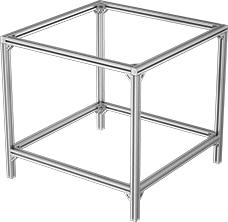 Get projects off to a quick start with these kits that include the components you need to build simple structures, such as workbenches and stands. When assembled, bases are 34" high to allow room for bench tops and mounting feet.
Lg.

Wd.

Ht.

Profile

Ht.

Wd.

T-Slot




Wd.

Color
Holding


Capacity,




lbs.

Includes
Assembled
or
Unassembled
Each

Anodized 6560 Aluminum

24"
24"
34"
Single
1

1/2

"
1

1/2

"
0.32"
Silver
250
Corner Brackets, End Caps, Mounting Fasteners, Rails
Unassembled
00000000
0000000
36"
36"
34"
Single
1

1/2

"
1

1/2

"
0.32"
Silver
250
Corner Brackets, End Caps, Mounting Fasteners, Rails
Unassembled
00000000
000000
48"
36"
34"
Single
1

1/2

"
1

1/2

"
0.32"
Silver
250
Corner Brackets, End Caps, Mounting Fasteners, Rails
Unassembled
00000000
000000