About
Noise,

Filtration,

and Flow Ratings
Lockable Breather Vents with Cap
Secure access to vented openings in pipe and tanks—the cap can be locked to prevent tampering. These breather vents allow you to add a filling port to your hydraulic tank while protecting against excess pressure and vacuum. Use them to stop debris from entering your tank. Breather vents mount on top of standard tank openings with included hardware. Padlock is not included.
For technical drawings and 3-D models, click on a part number.
Aluminum Body and Fitting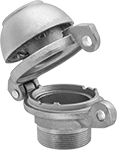 Aluminum with Stainless Steel Screen
Pipe
Size

Max.




Temp.,

°F

Ht.

Dia.

For Use With
Cap
Screen
For

Max.

Padlock
Shackle

Dia.

Each

NPT Male

2

200°
4

1/2

"
5

5/8

"
Air, Oil, Water
Aluminum
Stainless Steel

3/8

"
0000000
000000
Diesel Fuel Tank Caps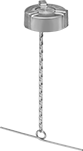 Cap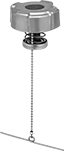 Often used with trailers, compressors, and other equipment tanks, these caps meet Department of Transportation requirements. Caps have fusible plugs that will melt when the outside environment reaches their opening temperature.
Cap with vent will automatically open when the internal pressure reaches between 6.5 psi to 8.5 psi to relieve pressure.