Multipurpose 6061 Aluminum Sheets and Bars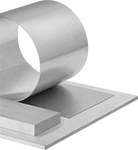 The most widely used aluminum, 6061 is fabricated into everything from pipe fittings and containers to automotive and aerospace parts. It is strong and corrosion resistant, plus it's easy to machine and weld.
Extruded sheets and bars are formed by a die for close-tolerance widths, then cut to the lengths listed.
Aluminum that meets an SAE AMS standard conforms to the material and process needs of the aerospace industry.
For technical drawings and 3-D models, click on a part number.

Certificates with a traceable lot number are available for these products. Download certificates from ORDER HISTORY after your order ships.
Yield

Strength:

35,

000 psi

Hardness:

Brinell 95

(Soft)

Temper:

See table

Fabrication:

See table
Specifications

Met:

See table
Clear
Scratch-

and

UV-Resistant

Cast Acrylic

Sheets,

Bars,

and Cubes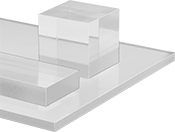 These cast acrylic sheets, bars, and cubes are often fabricated into tanks, see-through barrier panels, and light fixture lenses. Cast acrylic, which is comparable to Lucite and Plexiglas® Acrylic, is easier to machine than extruded acrylic. This material is scratch and UV resistant; it stands up to outdoor use better than polycarbonate and maintains clarity over time.
For technical drawings and 3-D models, click on a part number.

Clear
Color:

See table
Temperature

Range:

-40° to 170° F

Tensile

Strength:

10,000-11,

250 psi

(Good)

Impact

Strength:

0.3-0.

4

ft.

-

lbs./in.

(Poor)

Hardness:

Rockwell

M94-M100

(Hard)

For Use

Outdoors:

Yes
Specifications

Met:

FDA Compliant 21 CFR

177.1010,

USP Class VI
Thick.

Thick.

Tolerance
Color
Each

15/16

"
-0.047" to 0.094"
Clear
00000000
000000

15/16

"
-0.047" to 0.094"
Clear
00000000
00000

15/16

"
-0.047" to 0.094"
Clear
00000000
00000

15/16

"
-0.047" to 0.094"
Clear
00000000
00000

15/16

"
-0.047" to 0.094"
Clear
00000000
000000

15/16

"
-0.047" to 0.094"
Clear
00000000
000000

15/16

"
-0.047" to 0.094"
Clear
00000000
000000

15/16

"
-0.047" to 0.094"
Clear
00000000
000000

15/16

"
-0.047" to 0.094"
Clear
00000000
000000