Flat Roof Vent Caps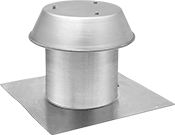 Cover external vents to reduce downdrafts and prevent obstructions from entering the vent.
For Duct


Dia.

Ht.

Wd.

Lg.

Gauge
Features
Each
8"
9

7/8

"
15"
15"
22
Bird Screen
0000000
000000
Gas Chimney

Vents and Fittings
For use with gas-fired equipment, such as boilers and furnaces, these vent pipes and fittings withstand temperatures up to 400° F. Also known as type B gas vents.
To join pipes and connectors, insert a male end into a female end and secure with the included locking band.