Easy-to-Form

Pure 1000 Series Aluminum Sheets and Bars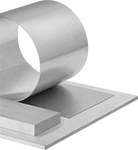 Made of 1000 series aluminum which is 99% pure, this aluminum offers superior formability, corrosion resistance, and electrical conductivity. It's frequently fabricated into raceways, decorative trim, and other parts where strength and hardness are not required. These temper O foil, sheets, and bars are annealed to the softest state possible, which is sometimes called "dead soft." The foil is often used as a wrap, cover, mask, or patch.

Certificates with a traceable lot number are available for these products. Download certificates from ORDER HISTORY after your order ships.
Yield

Strength:

2,

500 psi

Hardness:

Brinell 20

(Soft)

Temper:

O

(Annealed)

Fabrication:

See table
Thick.

Thick.


Tolerance

Wd.

Lg.

Fabrication
Heat
Treatment
Temperature


Range,

°F

Each

Pkg.




Qty.

Pkg.

0.0007"
-0.0001" to 0.0001"
12"
10

3/4

"
Cast
Annealed (Softened)
-20° to 300°
000000
00
500
0000000
000000
0.0007"
-0.0001" to 0.0001"
12"
500ft.
Cast
Annealed (Softened)
-20° to 300°
0000000
000000
__
000000
00
0.0007"
-0.0001" to 0.0001"
12"
1,000ft.
Cast
Annealed (Softened)
-20° to 300°
0000000
00000
__
000000
00
0.0007"
-0.0001" to 0.0001"
18"
500ft.
Cast
Annealed (Softened)
-20° to 300°
0000000
00000
__
000000
00
0.0007"
-0.0001" to 0.0001"
18"
1,000ft.
Cast
Annealed (Softened)
-20° to 300°
0000000
000000
__
000000
00