Telescoping
Weld-Together

Rails
Create posts of varying lengths. To telescope rails, slide one length of rail into the next larger size rail (for example, a 1 3/4" height rail fits into a 2" height rail and a 3/4" dia. rail fits into a 1" dia. rail). Weld the rails together at the desired length to create strong structures. These rails are not compatible with weld-together framing and fittings.
Aluminum rails are about half the weight of steel and resist corrosion in wet environments.
For technical drawings and 3-D models, click on a part number.
Telescoping
Corrosion-Resistant

3003 Aluminum Tubes

Yield

Strength:

21,

000 psi

Hardness:

Brinell 40

(Soft)

Temper:

H14 (

1/2

Hard)

Fabrication:

Cold Drawn
Specifications

Met:

ASTM B210
These tubes are sized so that each tube fits into the next larger size. 3003 aluminum stands up to outdoor use, as well as exposure to chemicals. It offers a good combination of strength, formability, and weldability. It's often used for storage tanks, heat exchangers, and general sheet metal work.
For technical drawings and 3-D models, click on a part number.
Temporary Partition Poles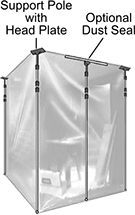 Use these telescoping poles with tarps, drop cloths, and plastic sheeting up to 8 mils thick to create a sturdy, temporary wall and control dust and debris. Poles have a head plate with a nonskid pad to protect your ceiling.
Replace head plates with dust seals (sold separately) for extra protection. These aluminum bars with foam padding press tightly to the ceiling.
Zippered doorway kits (sold separately) include two zippers and a knife to cut sheeting. Use one zipper for a narrow opening; use both to create a larger, roll-up entryway.